H1N1

flu vaccines coming to Leavenworth County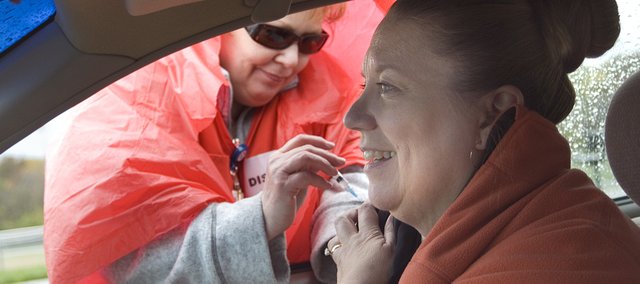 H1N1 vaccines are coming to Leavenworth County, but it might be a while before everybody can get it.
Donna Martin, Leavenworth County Health Department director, said as of Friday, a shipment of H1N1 vaccines will be delivered to the county by mid-October, but she expects the quantities to be small and there are certain priority groups that will get the vaccine before it is issued to the general public.
"That very small group would be pregnant women, children 6-months to 4-years-old, healthcare workers with direct contact with patients, caregivers of children 6-months and younger, and people 5-years to 24-years-old with chronic health conditions," she said.
Martin said the date of the delivery, the quantity and the priority groups could change at anytime.
The Kansas Department of Health and Environment has confirmed cases of H1N1 influenza in 53 counties including Leavenworth, Jefferson, Douglas, Johnson and Wyandotte counties.
Martin said because of the increase in flu cases, only hospitalized patients are getting tested to confirm if they have H1N1.
She urges anybody that has the flu or flu-like symptoms to stay home and not go back into public until they are fever free for at least 24 hours.
Because initial quantities of the H1N1 vaccine will be small, health officials are still urging residents to get their seasonal flu vaccines.
A press release issued by the county health department states that every year the seasonal flu hospitalizes more than 200,000 people in the United States and about 36,000 die from complications from the flu.
Martin said they are moving the start of their flu vaccination season by a month because of H1N1.
"Absolutely everybody should be getting a seasonal flu shot this year," Martin said. "Even though it's not for H1N1, it's better to protect yourself against seasonal flu so that you have that protection." She said. "When H1N1 vaccines are available you can get that too and hopefully be protected against all of it."
On Thursday, the Leavenworth County Health Department announced they would be sponsoring two drive-through flu clinics to give residents the seasonal flu vaccine.
The first clinic will be held from 9 a.m. to 1 p.m., Sept. 21, at the 10th Avenue Park in Leavenworth. The park is located at 10th Avenue and Gatewood Street, near Warren Middle School.
The second clinic will be 9 a.m. to 1 p.m., Oct. 12, at the Tonganoxie Middle School, 824 Washington St.
Quantities will be limited at each clinic.
The cost for the seasonal vaccine at the clinics will be $20. The Leavenworth County Health Department will accept cash, check, Medicare B, Medicaid and Healthwave. Vaccines are recommended for anyone 6-months and older. Children between 6-months to 3-years-old will require a note from a doctor.
To help thing run smoothly at the clinic, the health department recommending that residents interested in getting the vaccine, fill out a health form available online at www.leavnworhtcounty.org, or at public libraries and city halls in the county, the Riverside Community Center in Leavenworth, or the Leavenworth County Courthouse.
They also ask that people wear appropriate clothing for receiving a flu shot in their upper arm.
For more information contact the health department at (913) 250-2039.
The Leavenworth-Jefferson Electric Cooperative will also be sponsoring a free health fair from 2:30 p.m. - 5:30 p.m. at their office, 507 N. Union St.,
Available at the fair will be: Blood pressure testing; cholesterol screenings; height and weight measurements; chiropractic services; eye care; nutrition information; hearing information; physical therapy; assisted living information; investment information; community agencies; health insurance information; disaster information; funeral preparation; Sam's Club membership information.
The American Red Cross will be providing a limited quantity of seasonal flu shots for $25. The Red Cross will be able to bill Medicare for the cost of the vaccine.