9/11 memories last forever
Army major recounts role he played following terrorist attacks on Sept. 11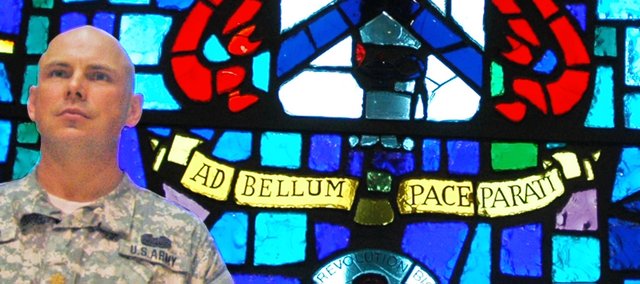 Fort Leavenworth — Army Maj. Jon Brierton remembers exactly where he was and what he was doing eight years ago when two planes hit the World Trade Center.
Now a student at the Command and General Staff College at Fort Leavenworth, Brierton was a plans officer in the Army Reserve's 854th Engineer Battalion, stationed in Kingston, N.Y., about 45 minutes from New York City. He recalls that it was during a morning staff meeting when an administrator with the battalion, Bob Howe, entered the room to announce the first plane had hit one of the towers. Brierton and his associates didn't believe Howe at first, but when he returned moments later to announce the news of a second plane hitting the World Trade Center, it all began to sink in.
"At that point, it was just this feeling came across everybody there in the room that, oh my God, we're under attack," Brierton said. "Essentially at that point, we stopped the meeting … We all gathered around the television and just started watching this."
On that day, Brierton's duties as a plans officer switched to running a continuous 24-hour operations center. Throughout the course of September 2001, Brierton not only helped to man phones and organize the donation of bucket loaders and bulldozers to assist with cleanup efforts, but also helped to organize the donation of Army cots and tents to the National Guard. The Kingston post became a 24-hour communications cell, demanding 12- to 16-hour workdays of Brierton.
"During the first couple days, it was essentially hard to sleep," Brierton remembers of that time. "You were so tired, but your mind was racing. There were so many things that you had to get done in a timely manner. The first week was the toughest. It wasn't like we were setting up these operations centers all of the time."
But Brierton's duties in assisting with the aftermath of Sept. 11 didn't end there. He was also tasked to become the casualty assistance officer for Army Reserve Staff Sgt. Frederick Ill, Jr., who was a captain in New York City Fire Department Ladder 2. Ill was killed after entering the first burning tower and, to this day, his body has never been found.
For two months, Brierton would assist with funeral arrangements for Ill, such as coordinating the funeral and arranging for death benefits and military honors. He remembers the experience being a difficult one, especially when working with Ill's wife.
"What's tough about that is talking about the benefits and figuring out how to be supportive, and at the same time trying to do your job in a professional manner," Brierton said. "Because you really can't show emotion. I can't go in there and cry with Mary Ill."
Brierton says he knew Ill, but not as well as he knew an executive officer for the 854th Battalion, Maj. Neil Scow, with whom he is still close. Scow was a lieutenant in FDNY Ladder 2 at the time and was supposed to work on Sept. 11, but he had asked Ill to switch with him.
"He was just very saddened by it," Brierton said of Scow. "It's just, you know, that feeling of loss. Fred was a great American. He was a public servant, as a captain of the fire department, as a soldier in the Army Reserve. He was a father, he was a husband, and with the fact that our country lost such a great American on that day, it is definitely, it's tragic."
Years later, Brierton still remembers how such a tragic event, where more than 3,000 people were killed, became a formidable force for uniting the country. Despite such a great loss, he says something positive came out of that day, and he still can see those effects.
"It was awe-inspiring how we came together and the normal differences among us as a nation fell to the wayside as we braced and poised ourselves for certain conflict in the Middle East," Brierton said in an e-mail. "This wave of patriotism is still going on today, not as strong as it was immediately following 9/11, however, it is still there. The nation has done a tremendous job of supporting the troops and welcoming them home."