Bobcats have fun on the run
BLHS

girls, boys sweep team titles at home meet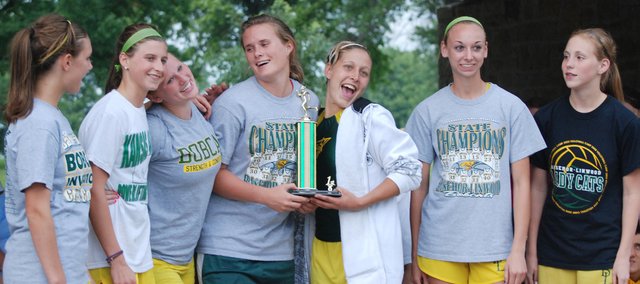 Photo Gallery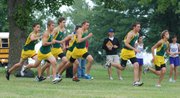 BLHS sweeps titles at Bobcat Invitational
It didn't take long for the Basehor-Linwood cross country team to find out if its hard work in the summertime would pay off this fall.
The Bobcats opened their season Thursday at the Bobcat Invitational and swept the boys' and girls' team championships.
The BLHS girls had five of the top nine finishers and seven of the top 15 while compiling a team score of 24. Jackson Heights was second with 56 and Ottawa finished third with 66. The Basehor boys had three of the top 10 finishers and posted a team score of 50, well ahead of runner-up Blue Valley West's 68.
For Basehor-Linwood coach Jeff Venema, the day couldn't have gone any better.
"I think for our girls it just solidifies to them the confidence to understand how good they can be, and (we can) build on it," Venema said. "For the guys, I think it's a turning point. We have been talking to these same kids for a couple years now that if they just persevere, if they maintain and stay confident and keep working hard, then at some point they are going to get to the age group where they can start to compete and start to be successful. And now the core is juniors, and this is really, really going to help us in our practices. They are going to want to come to practice and be excited. They've done a great job, and now this is really a great reward."
In the girls' race, Hannah Tush cruised to a first-place finish in the 4K race in 16:49.
For Tush, it was a stellar first race after missing the bulk of last season with a broken ankle and a high ankle sprain.
"It felt great," Tush said. "It felt so nice to finally get back in it. I haven't raced since last September, so it's been almost a year. But I ran over the summer and I'm back in shape, so I'm feeling pretty good."
Teammate Kayla Peterson — a state qualifier last year — took second in 16:51. Haley Stallbaumer (seventh, 18:16), Brooke Redmond (eighth, 18:17) and Sheridan Miles (ninth, 18:22) rounded out the first five for the Bobcats. Casey Mahoney finished 11th in 18:34 and Megan Rehm was 15th in 19:03.
Peterson said she was impressed with how the Bobcats competed as a team, and she said she is encouraged about what the team is capable of achieving this season.
"(Winning the meet) means that it's going to go pretty good this year," she said. "It means that we're probably going to be better down the line at other meets."
Cory Keehn of Jackson Heights was the individual champion in the 5K boys race in 17:10, but a steady stream of Bobcats finished close behind.
Brady Blackwood was the top BLHS finisher, taking fifth in 18:47. Teammate Wyatt Kelly was right on his heels, finishing sixth in 18:49.
Michael Torrez placed 10th in 19:21, Bryce Garver was 15th in 19:43 and Brad Waterman rounded out the Bobcats' first five with a 19th-place finish in 19:59.
Rob Peterson finished 22nd in 20:27 and Tony Almeida was 25th in 21:05.
Blackwood said he thought the Bobcats could have turned in an even better performance as a team if they hadn't started out too fast, but the excitement of the race took over. Still, he said it was an important first performance for the team as the Bobcats focused on running as a pack.
"We've trained so far to be a team and run as a team, so that's what we were trying to do," he said. "We were trying to stay (together in a pack) as a team."
The Bobcats next race is at 4:30 p.m. today at the Atchison County Community High School Invitational.