Dogs contribute to safer environment in prison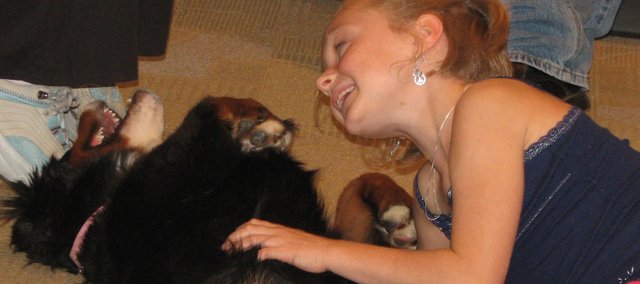 The Safe Harbor Prison Dogs program continues to thrive, seeing steady success with its training and adoption plans for dogs and overcoming a much-publicized incident in 2006,when the organization's president orchestrated an inmate's escape in a dog crate.
Brett and Wendy Peterson came to the Basehor Community Library Sept. 3 to tell visitors about how far the program had come in its five years of operation housing dogs with inmates at the Lansing Correctional Facility.
"We've been in business for five years now, and that's really incredible," Brett Peterson, prison public information officer, said. "It's a tremendous amount of work, but it's fun and rewarding."
The process starts with a dog, Peterson said. The program takes homeless dogs from shelters and veterinary clinics. One such canine is "Bella," a black and brown dog the Petersons brought to the library event. Bella's original owners lost their house and had to move into an apartment that did not allow dogs. The move meant Bella had to be left behind. Safe Harbor picked her up for the program, and there she will stay until she finds a new home.
"We get a lot of dogs like (Bella)," Brett Peterson said. "Because of things like foreclosures, shelters across the country are bulging."
When a dog comes into the program, it is tested for heartworms, has its vaccinations updated and is spayed or neutered. The dog is then paired with an inmate at the Lansing prison who has undergone an application process and background check.
"(For the inmates) it's kind of like applying for a job," Brett Peterson said. "We do background checks to make sure there's nothing about animal cruelty. Of course, when you're in prison, pretty much everything about you is on file."
With an average of 70 dogs in the prison at any time and more than 3,000 dogs adopted into homes, Brett Peterson said he and the other Safe Harbor workers were proud of their work. The program brings staff and inmates together, Brett Peterson said, and contributes to a happier, safer environment in the prison.
"People who otherwise wouldn't communicate with each other do when there's a dog," he said. "It's a conversation starter. In areas with dogs, there's less violence. That makes things safer for our staff and inmates."
Safe Harbor hasn't been without conflict, however. The incident Brett and Wendy Peterson refer to as "the great escape," when the organization's then-president Toby Young helped inmate John Manard escape, hiding him in a dog crate loaded in a Safe Harbor Van, created several months of negative press for the program. Though word was rapidly spreading about the worker who contributed to a prison break, the event did not slow Safe Harbor's stride in the least, Brett Peterson said.
"It barely made a ripple," he said. "That happened on a Sunday, and the following Saturday we went to PetSmart to do an adoption, just like we always did. No one really talked about it."
The Department of Corrections and the Lansing Correctional Facility staff stood by Safe Harbor during the frenzy, Brett Peterson said. Though Young's actions did not faze the program's success, a few changes were implemented to prevent such a crime from occurring again. Security at the prison was amplified, no Safe Harbor vans drive directly up to the prison, and all workers are staff members of the prison or family members of prison staff.
"Since 2006, we haven't used any outside people," Brett Peterson said. "We don't have any outside trainers, speakers, workers."
Dog training is the prisoners' responsibility, Brett Peterson said, and it's their call when the dog is fit for adoption.
"They know when the dogs are ready," Brett Peterson said. "They miss them when they're gone, but then they get new dogs, and it starts over. It's really a wonderful program, with benefits for the dogs and the inmates."