Recycling 411
City clerk addresses Basehor recycling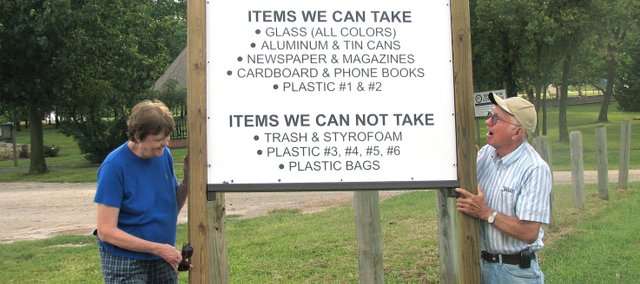 The Leavenworth County Board of County Commissioners voted in February to end satellite recycling in the county. Basehor City Clerk Mary Ann Mogle discusses Basehor residents' current recycling options.
Q: Where can people in Basehor take their recycling items?
A: Basehor West Elementary, Basehor-Linwood High School, Glenwood Ridge Elementary. Aluminum cans can be taken to a bin located at 2805 N. 155th St. Proceeds go for improvements to the city park.
Q: What types of recyclables can be taken to those sites?
A: Standard plastics, aluminum, paper goods. No glass or corrugated boxes.
Q: Is anything in motion for a regular recycling program in the city? If so, how would the program work?
A: The City Council is in favor of recycling. However, the members are concerned with mandating an additional fee on residents at this time. They are hoping that residents use the school's recycling program, since it benefits the schools as well. The council would most likely reconsider the matter if many calls came into City Hall from residents favoring a mandated recycling program. Any residents who wish to provide feedback or ideas can contact City Hall.
Q: What, in your opinion, is the importance of recycling?
A: Helping the environment and teaching children at a young age to be aware of the advantages of recycling.
Q: Who should people contact if they have questions about recycling in Basehor?
A: City of Basehor at City Hall, (913) 724-1370, or Deffenbaugh, (913) 631-3300.