Senate candidate blames government borrowing for economic crisis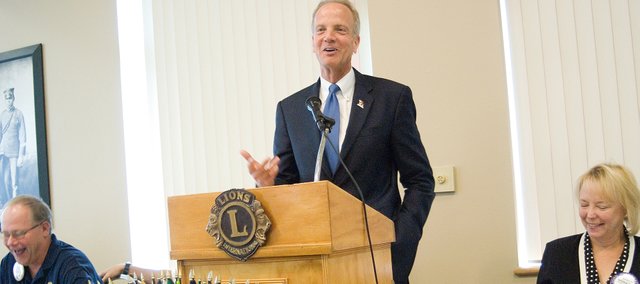 Leavenworth — While many United States citizens have been expressing concerns about recent government actions, U.S. Rep. Jerry Moran, R-Kan, has some concerns of his own.
At the Sept. 3 Leavenworth Lions Club meeting, Moran said he saw numerous problems with all stimulus packages and cited the government's borrowing money as a reason the nation was in an economic crisis.
"While spending money I think can be a bad thing, borrowing money is even worse," said Moran, who is campaigning for the U.S. Senate seat being vacated in 2010 by fellow Republican Sam Brownback. "We've borrowed too much money. We cannot afford to do what we're doing."
In borrowing such large sums of money, Moran said, America is passing an overwhelming amount of debt to its younger generations. Moran said his parents did their best to make life better for him, but he didn't see that same foresight within men and women his own age.
"Our generation is 'let's take care of ourselves,'" Moran said.
Officials in Washington, D.C., have lost sight of what is important, Moran said, trapping themselves in a constant struggle of political parties.
"It's become a game between two teams: the Republican team and the Democratic team," Moran said. "It's not all about how to make your political party look better. It's about trying to make life better in America."
Moran, whose faces a stiff challenge for the GOP nomination for Senate from Wichita-area Congressman Todd Tiahrt, also expressed his disapproval of the current health care system and the proposed health care bill. Health care plans are currently not functioning properly, but the bill rolling through Legislation will not make circumstances any better, Moran said.
Health care should be more proactive, Moran said, and attempt to prevent disease instead of just treating it. One of the best ways to prevent illness, Moran said, is maintaining a healthy diet and getting plenty of exercise.
"I think wellness with diet and nutrition is the best bang for our buck," Moran said.
Moran said government-run health care was not the answer to the nation's medical problems.
"A government takeover in health care only makes worse consequences, not better," Moran said.