Bobcats earn split at home dual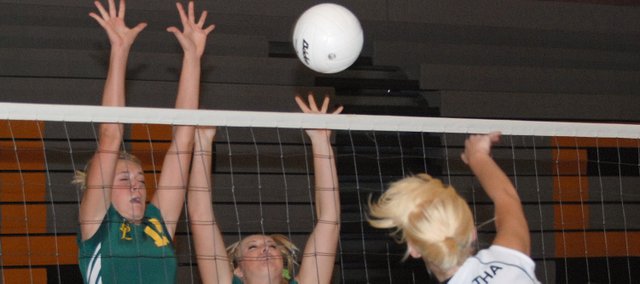 Photo Gallery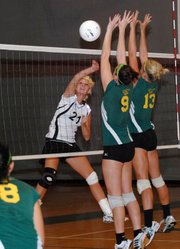 Maranatha, Mill Valley visit Basehor-Linwood
Facing two opponents with vastly different styles, the Basehor-Linwood volleyball team learned a few things about itself during its home quadrangular Thursday night.
First, the Bobcats had some weaknesses exposed that they now know they need to correct.
Second — and most encouraging to coach Tammy Zydlo — was that the Bobcats once again displayed the type of resilience that the fourth-year coach believes will help her team succeed as the season continues.
Basehor struggled early in its first match, losing game one to Maranatha Academy before winning the next two games for a 20-25, 25-22, 25-18 victory. Then The Bobcats fell to Mill Valley, 25-17, 25-17, but refused to buckle under large early deficits.
"I really like how they keep working … they just keep working," Zydlo said of her squad. "There's not this huge let-down. They'll do something good and they kind of build on that."
Maranatha, a Class 2A school that was surprisingly savvy on defense, did almost everything right during game one. After falling behind 2-0, the Eagles surged to a 15-9 lead behind the hard swings of Haylee Toothman and a scrappy defensive effort that forced numerous long volleys and lulled the Bobcats into making mistakes.
Basehor rallied to within 18-17 before Maranatha pulled away for the victory.
"They are a very good team," Zydlo said of Maranatha. "I had watched them the other night at De Soto, and I told the girls they're a very steady team, and they were. And whenever you play against teams like that where they're very steady and they keep the balls coming back at you, you've got to make sure that you're hitting not just to the middle of the court; you've got to move your hits around, because every team has a weakness and you've got to find it."
The upset-minded Eagles continued with their game plan in game two and led most of the way. They built a 22-18 lead before the Bobcats used a pair of kills by Courtney Hooks to spark a 7-0 rally to close the game.
The Bobcats dominated much of game three, racing to an 8-3 lead and fending off an Eagle rally that brought them within 17-15. Courtney Poe's strong serve allowed the Bobcats to close out the game, however, as she fired three aces down the stretch. Cassy Bever pounded a pair of kills that capped the victory.
"Serving against Maranatha, Courtney Poe did an excellent job of serving really tough and moving the ball around, as did Taylor Johnson, and whenever you can take a team out of their offense, then good things are going to come to you," Zydlo said.
Basehor was caught out of its offensive rhythm for much of the match against Mill Valley. Whereas Maranatha's strength was its defense, Mill Valley played more above the net with a power-hitting game that put the Bobcats on the defensive.
Morgan Oshinski and Whitney Hartman pounded early kills for the Jaguars as they built a 14-6 lead in game one. Basehor countered with a 4-0 run as Cara McCarty, Cheyann Taylor and Poe had kills and Bever fired an ace. MVHS answered with its own 4-0 run, however, and gradually pulled away for the victory.
BLHS opened game two on a 3-1 run behind a kill by Hooks, a combo block by Shelby Equels and Hooks and a Jaguar error. Mill Valley regrouped and surged to a 20-10 lead. Basehor countered with a mini rally, but it wasn't enough to overcome the Jaguars' advantage.
Zydlo said passing was a problem for her team against Mill Valley.
"The first game our passing wasn't really on, and because of that we were taking too many free balls over," Zydlo said. "No team ever wins by putting free balls back over the net. We've got to get back to being aggressive all the time, no matter who we play."
BLHS next plays at 9 a.m. Saturday at the Lansing Invitational. Zydlo said she is excited for the tournament for a variety of reasons.
"There's always such great competition at the Lansing tournament," she said. "I love having this tournament. It's great because it's right at the beginning of the season and you can see what you need to work on. Typically we haven't had a lot of matches until then. We're 3-3 now, so we've had six matches under our belt going into the Lansing tournament and that's never really happened; usually we have like three. We've doubled that, and I feel like we're a lot more prepared for the great competition that's there."
Basehor will play Lansing, De Soto, Louisburg and then Shawnee Mission North in pool play at the tournament.