Military personnel pay surprise visit to fifth-graders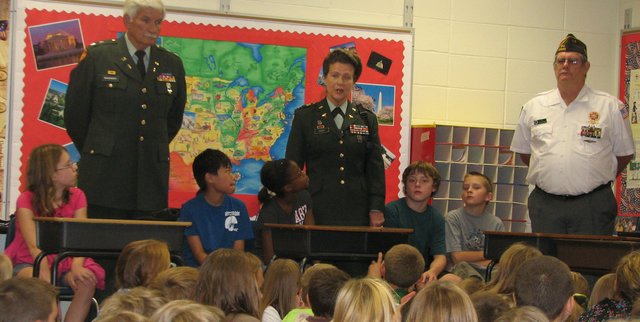 Fifth-graders at Basehor Elementary School had quite a surprise Friday.
When students in Michelle Ablard's class arrived at school that morning, they found their desks had disappeared. During the better part of the day, the fifth-graders sat bewildered in their chairs, balancing their books and papers.
After recess, a group of active and retired United States military personnel came into the classroom carrying their greatly missed furniture. The activity was part of an exercise Ablard planned to demonstrate the sacrifices made by members of the military. The lost desks were just a glimpse of what could be lacking in the students' lives if not for the men and women who fought for American freedoms.
"Do you know how fortunate you are to live in the United States of America?" Ablard asked the students.
For more on this story, see the Sept. 17 issue of the Sentinel.