Area residents take it upon themselves to build 'green'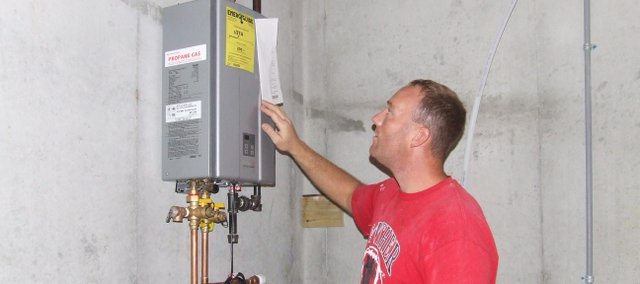 In this day and age, people are constantly looking for ways to live green and save money.
Several people in the Bonner Springs and Basehor areas are doing just that when it comes to building homes.
"Efficiency was what we were trying to go for," said Brian Little, who is currently in the process of building an energy efficient home in Bonner Springs.
The key to Brian's and his wife Kristen's energy efficiency is structural insulated panels for their walls and ceilings. These panels, used by more and more builders these days, are made by sandwiching a rigid foam plastic insulation between two pieces of wood. The extra 5.5 inches of foam provide for a tightly sealed home that doesn't allow for the temperature fluxuations like in a traditional home, which has thinner walls and several holes for heat to escape.
Another of the area's green builders is Wayne Castle, a retired minister who has built three homes and a large addition using the structural insulated panels. Castle currently lives in the Glenwood Estates subdivision of Basehor in an energy efficient home.
Castle said the insulation provided by the foam core of the house cuts utility bills significantly. Instead of having utilities constantly heating or cooling the house, the temperature is trapped by the foam making for a comfortable living temperature, so utilities don't have to be used as often.
"We probably have half of the cost of utilities than most people in the neighborhood," Castle said.
In addition to saving money, both Brian Little and Castle said the foam panels sped up the building process. Each of their homes took just one week to basically build their entire structure on top of a traditional basement.
The reason for this speedy construction is because the panels arrive pre cut and numbered. It's like putting together a giant puzzle, Castle said. The company making the panels takes the design of the home and cuts each piece to fit a certain spot. The builder then just has to snap them together and add some nails, and the structure is finished besides dry wall and finishing touches like in any home.
Castle built his first home with foam panels 12 years ago in Oskaloosa. He said the advantages of theses types of homes is what keeps him using the material for each new house he builds.
Castle said the foam panels were originally developed in Japan between 30-40 years ago. He said their purpose back then was not about energy efficiency but about being earthquake proof.
Unlike a traditional wood frame home, Castle said the insulated panels allowed the house more flexibility, meaning it withstands a lot more.
Castle said there was a misconception about Styrofoam being bad for the environment. Instead, he said, Styrofoam is a byproduct of the petroleum industry and is 100 percent recyclable.
But it's not only the foam insulation of the panels that makes them greener living. The board used to sandwich the foam is waferboard, which is made by compacting smaller pieces of wood that are unfit for any other use.
"It's crazy not to build with it," Castle said. "You save a lot of money, and it just makes sense in this economy."
In addition to the insulated panels, the Littles have utilized several other energy efficient products in their home.
Because of the panels, Brian Little said he could put in a smaller, more efficient furnace. He is also using energy efficient appliances, windows and doors.
Instead of a water heater that is constantly heating 50 gallons of water, the Littles installed a tankless water heater. The concept saves money because instead of heating water that's not needed, the device only heats water once the facet is on and in use.
"We're trying to be efficient," Brian said, "so we're not losing out on energy costs."