Former Bonner resident takes on Kemper Museum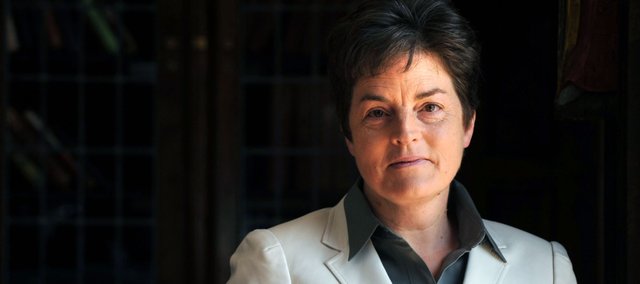 The first day of work for the new curator at the Kemper Museum of Contemporary Art was a flurry of activity, covering everything from moving into a new office, attending the very first staff meeting and assisting with the layout of an upcoming exhibit, "Wyeth: Three Generations of Artistry."
The new curator is Barbara O'Brien, who lived in Bonner Springs from the time she was a toddler until she left for college at Kansas University.
"What a whirlwind," O'Brien said of her first day of work, which was Tuesday, Sept. 15. "There's so much going on at the Kemper. It's a really exciting time to be there."
One of those goings on is the "Wyeth" exhibit, which opens today, Sept. 17, and runs through Nov. 29. The temporary exhibit will feature paintings and works on paper from noted illustrator N.C. Wyeth, his son Andrew Wyeth and grandson James Wyeth. O'Brien will be performing her first public curatorial duty when she engages in a public conversation with James during a reception from 5:30-7:30 p.m. today at the Kemper.
It is this part of the job that O'Brien says she finds most fascinating. She says she has always loved talking to other artists about their art, which is how she came to be a curator in the first place.
She earned both a Bachelor of Science in journalism and a Bachelor of Arts in women's studies at Kansas University. Always shooting photos since she was a student at Bonner Springs High School, O'Brien had become quite a recognized photographer in her own right by the time she entered graduate school at the Rhode Island School of Design. Her own artistic endeavors, however, went by the wayside, she says, as she began getting to know more and more artists.
"I was more interested in talking with artists about their work than having them talk with me about mine," O'Brien said of that time period. "And, to be an artist, I think you have to care most about having people appreciate your work … I like advocating for artists, I like helping them find their way through the world. In a museum setting, it's an incredible opportunity for me to offer support."
O'Brien has worn several hats in her career, but most of them have been curatorial in nature. She was a curator for 10 years at Montserrat College of Art and Design in Beverly, Mass., and a curator at Simmons College in Boston for 20 years. She says coming from a career in an educational background will greatly enhance the work she will do at the Kemper.
"What I really bring from that of being a curator in an educational setting is a desire to find ways to communicate the meaning and importance of contemporary art," O'Brien said. "And having been in an educational setting for so long, I have found strategies and ways to reach out to communities of people to really engage them in conversation about contemporary art, as opposed to say, in a private gallery, where that intellectual dialogue isn't valued."
O'Brien was still at Simmons when she decided to apply for the curator position at the Kemper. She said the idea of moving closer to Bonner Springs, after spending 21 years in Boston, was an attractive one, especially as she will be closer to several of her family members and as the area still carries quite a generational legacy near and dear to her heart; O'Brien said her mother, grandmother and great-grandmother were all raised in the Bonner Springs area.
She said she also will enjoy being near a city that played such a large part in the very makeup of who she is today. O'Brien said Bonner Springs not only inspired O'Brien's later interest in small artistic communities, but also showed her how to treat others as she herself would like to be treated, which she says is not as simple of a concept as it may sound.
Not only the new curator at the Kemper, where her duties will include choosing pieces of art for exhibits and researching the permanent collection, O'Brien would describe herself as a fan as well. She says the Kemper is on the verge of gaining national attention, and she is looking forward to contributing and being there when it does.