Holy-Field's harvest brings people together
Photo Gallery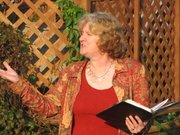 Holy-Field Harvest
It's been three years since Michelle and Les Meyer took a vacation.
The Basehor Holy-Field Vineyard and Winery owners work nonstop from season to season to provide the Kansas City area with some of the most delicious wine around.
This time of year, harvest is in full swing, and the vineyard has had a lot of help from people around the country. From August until the end of September, Holy-Field plays host to "picking Sundays," a weekly event that usually draws a crowd of more than 150 to aid the vineyard in plucking the clusters of fruit from 15 acres of vines.
"People come from all over," Holy-Field co-owner Michelle Meyer said. "A lot of families have been coming every summer for years from Lee's Summit, Blue Springs, Colorado. I remember seeing one little boy out here in a stroller it seems like yesterday, and this summer he came back, and he's 13. The kids really do have fun."
This year's harvest has been unique, co-owner Les Meyer said, because of the unusually damp and cool weather Kansas has seen in its summer months.
"This is unlike anything we've ever had," Les Meyer said. "In July, the dew was like rain. Because there wasn't much sun or wind, it stayed on the grapes, and we've really had to fight mildew."
Despite the setbacks with rain and low temperature, Holy-Field has maintained an average collection of about 20,000 pounds of grapes each weekend since August. All the weekend picking combined will generate more than 100,000 pounds for the year. From that giant mound of fruit, the winery will produce 35,000 bottles of wine, which is enough for a person to consume one bottle of wine every day for nearly 100 years.
Michelle Meyer said the grapes volunteers had snipped thus far were in excellent condition.
"What we've picked so far has been really good quality," she said. "We've been letting the grapes sit longer this year to raise the sugar, which is important for fermentation. Sometimes it's just about being patient and letting them hang for a while, especially when we haven't had the warm weather."
Once everyone has emerged from the vineyard on Sundays and emptied their buckets, Michelle and Les Meyer reward the hard workers with a hearty meal. Michelle Meyer also snaps individual photos of each person and turns those into holiday cards. The photography and card making is part of the Meyers' desire for harvest to be a special time of the year for all.
"I tell everyone to meet one new person when they pick grapes," Michelle Meyer said. "Then, when they get their card, they remember how much fun they had and the people they met. It's about more than picking or making wine. People really enjoy it."
The work is far from finished after the afternoon dining. All the buckets of grapes are carried into the cellar to be crushed and transferred to large tanks to be turned into wine. Volunteers are invited to come to the cellar to sample the juice from the fruits of their labor.
"I think it's important for people to see how the process works," Micheller Meyer said. "It's good for them to be able to see the grapes on the vines, then taste the juice, then taste some wine."
When harvest is completed in October, the Meyers continue making wine and begin pruning or replanting their vines, which generally have a life span of 30 years.
"Most people don't understand we work during the winter, too," Les Meyer said. "It takes 75 cuts to prune one vine. Fruit only grows on the new wood, so it has to be done, and it takes all winter to do 15 acres."
Though they still don't see a vacation in sight, the joy the Meyers derive from their trade has yet to diminish.
"You're always learning something," Michelle Meyer said. "It's always changing and growing. And you never get tired of seeing how beautiful it is."