Kids learn meaning of freedom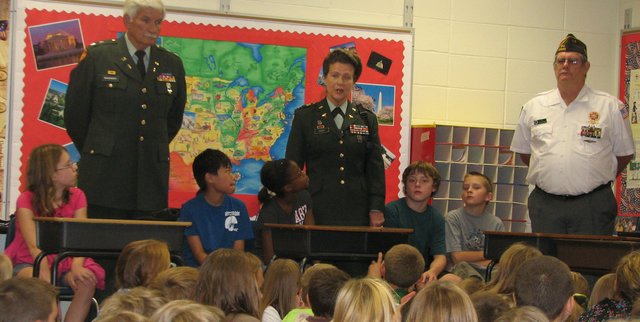 Fifth-graders at Basehor Elementary School had quite a surprise Sept. 11.
When students in Michelle Ablard's class arrived at school that morning, they found their desks had disappeared. During the better part of the day, the fifth-graders sat bewildered in their chairs, balancing their books and papers.
On the white board, the students saw a question of the day that read, "What did you do to earn the right to sit at a desk?"
After recess, the students shared their answers to this question with Ablard, and they sang "Proud to be an American." During the second verse of the song, a group of active and retired United States military personnel came into the classroom carrying the students' greatly missed furniture. The activity was part of an exercise Ablard planned to demonstrate the sacrifices made by members of the military. The lost desks were just a glimpse of what could be lacking in the students' lives if not for the men and women who fought for American freedoms.
"Do you know how fortunate you are to live in the United States of America?" Ablard asked the students. "You get to be whatever you want to be."
The entire room of people then stood to recite the Pledge of Allegiance, after which Basehor Veterans of Foreign Wars Post 11499 Commander Fred Box asked the fifth-graders if they knew what happened on Sept. 11, 2001. Several students raised their hands, and one responded it was the day planes crashed into the Twin Towers.
Box then called on the military members present to introduce themselves and tell a little bit about their careers.
Retired Army Maj. Richard Bogenrife said he was happy to be at the school that day talking to the youth of the country.
"You are the future of the United States," Bogenrife said. "It's certainly a pleasure to look out and see the future right here. It's right here."
Bogenrife also encouraged the students to stay in school and pursue the goals they've set for their futures.
"Keep alert. Learn," He said. "Think about what you want to be, and go for those dreams."
The fifth-graders had the opportunity to ask some questions of the military members, and one student asked which war had been the most deadly.
"Anytime you lose one American, it's a deadly war," Box responded. "They're all deadly wars."
At the end of the program, Box told the students they were welcome to visit the VFW post anytime.
"Stop by the VFW, and say hi to us," Box said. "We'll always stop and talk to you. And remember your veterans. Those are your moms, dads, grandpas going over there to fight for your freedom."
Members of the Basehor VFW will be back at Basehor Elementary School soon, as they will be paying visits to students from Sept. 11 until Veterans Day.