Saving lives
Kiwanis club plays host to blood drive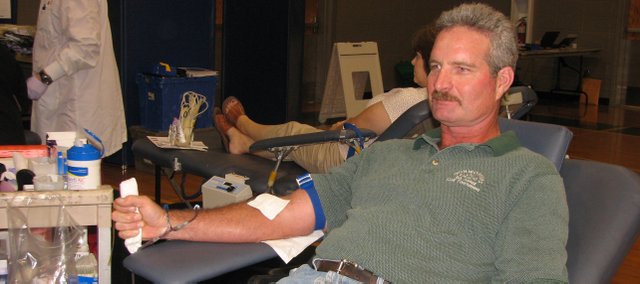 Q: Why did the Kiwanis club decide to have a blood drive?
A: Runnels: We've done them for years. We started back in the early 1970s I think, and we've had two a year ever since. It fills a community need.
Q: What was the goal amount of blood to be obtained at this drive?
A: Runnels: We were hoping for 25 units. Several years ago, we averaged around 35 or 40, but now there are more mobile units, so people can donate at work or other places around the area. Plus, the weather kind of determines some of it. But we'd really like to see a year where we get back up to that 35.
Q: How many people usually come to the drives?
A: Runnels: We normally have the 25 or so who donate, then about six to 10 deferrals because of illness or not enough iron or something. Lately, we haven't had very many deferrals. At our last drive, we only had two, so we were really happy about that.
Q: Why do you think it's important for people to participate in blood drives?
A: Runnels: It saves lives. You never know when the need might arise.
Sajevic: Each unit of blood has the potential to save two lives. Because blood cannot be synthetically manufactured, it has to be donated. There's no other way to get it. At the blood center, we have to have 580 units of blood per day to serve the hospitals. People who donate blood today will be saving lives in Basehor and the Kansas City area. We really rely on the generosity of people to give us life essentially.
Q: Will Kiwanis continue to have blood drives in the coming years?
A: Runnels: Absolutely. We have one in the fall and one in the spring every year, and we're going to keep doing it.