Senators say Guantanamo detainees won't be coming to Fort Leavenworth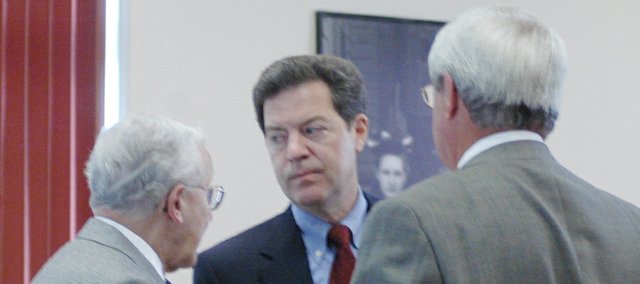 U.S. Senators Pat Roberts, R-Kan., and Sam Brownback, R-Kan., say after talks with the White House they are "confident" there will be no transfer of suspected terrorist detainees from Guantanamo Bay, Cuba, to the U.S. Disciplinary Barracks at Fort Leavenworth.
In a joint statement released Wednesday, Brownback and Roberts said they had removed legislative holds on key administration appointees to the Departments of Defense and Justice after discussions with administration officials. The two senators last month had vowed to block the administration appointments until the White House backed away from any attempt to house the detainees at Fort Leavenworth.
The senators released the following joint statement:
"We have recently had discussions with senior administration officials regarding the possible relocation of Gitmo detainees to Fort Leavenworth, Kan. Based upon these discussions, we have had the opportunity to present the concerns of many Kansans regarding the challenges and obstacles to moving detainees to Fort Leavenworth, along with the severe negative impact it would have on the educational mission of the fort and our relations with foreign nations.
"We believe that the Administration has a good understanding of obstacles and concerns and is giving them proper consideration. In a good faith effort to continue moving this dialogue forward, we are releasing our holds on all Department of Defense and Department of Justice nominees. We are confident that because of this good faith dialogue, detainees will not be transferred to Fort Leavenworth."
Both Roberts and Brownback — and other members of the Kansas congressional delegation — had made trips to Leavenworth in the past months to rally dissent against any effort to move the detainees to Fort Leavenworth. The Obama administration, which is seeking to close the prison at Guantanamo by January 2010, had identified Fort Leavenworth and a now-shuttered Michigan state prison as possible destinations for those still being held in Guantanamo.