Wheelchair to grant
BSHS

student more independence, much needed comfort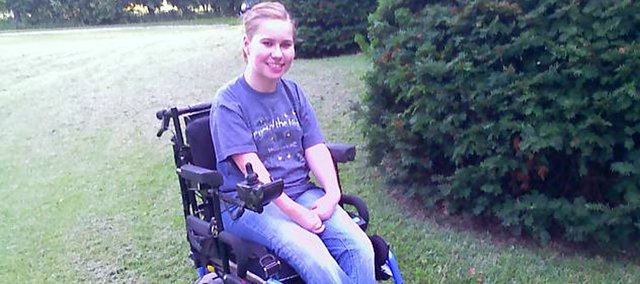 Rachel Taylor doesn't remember what it's like not to be uncomfortable.
The 15-year-old Bonner Springs High School sophomore was born with arthrogryposis — a condition that results in excessive muscle weakness and the contracture, or permanent shortening, of the muscles in her joints, preventing her from bending them properly. She was also diagnosed with scoliosis a year-and-a-half ago.
Rachel Taylor has been in a wheelchair since preschool. Her second wheelchair, which she received in the fourth-grade, is the one she is still currently using. She has outgrown this chair, her mother Cecilia Taylor said, and is in constant pain and discomfort.
"She dreads it," Cecilia said of each day that brings with it the prospect of having to get back in the chair, which Rachel must use most of the day to get around.
But things are about to change.
In a few weeks time, she will receive a new wheelchair — a power chair that is larger, has a recline tilt feature to the back seat for added comfort and will allow her to adjust the height of the chair as needed to allow for greater independence.
"I'll be glad because then I can get around better," Rachel said of getting the new wheelchair. "I'll be more comfortable."
The chair the Taylors chose for Rachel, with the help of her doctors and therapists, was priced at more than $32,000, and they have spent almost two years trying to raise the necessary funds. Cecilia said her insurance would cover up to $5,000, but that still left quite a chunk of change to raise. The Taylors were able to receive financial assistance, however, from the Muscular Dystrophy Association, as well as other organizations throughout the area, including the Fox 4 Love Fund for Children.
The Kansas City, Kan., Fire Department played host to two fundraisers benefiting Rachel Taylor's cause — a poker run and a car wash, which Cecilia Taylor said raised more than $2,000.
Through these avenues, as well as through some private donations the Taylors received, the family was able to raise about $24,000, including the money Cecilia Taylor would get for the chair through her insurance. Though not quite the total amount of the wheelchair, the Taylors found out last week that the wheelchair vendor would accept this amount as total payment for the new chair. The order has been placed, and Rachel should be feeling the comfort in about three weeks.
What Rachel, who her mother describes as a "go-getter," says she is most looking forward to, however, is the added independence the new power chair will bring her. After graduation, she plans to attend college and study fashion design, and has already learned how to ride a horse by training her horse to listen to her voice commands. She has competed in three Christian Youth Rodeo Association barrel-racing competitions.
"She doesn't let anything slow her down," Cecilia said.
Rachel, whose other passions include swimming, shopping and texting, says she is looking forward to the independence the chair will bring to her day-to-day life as well.
"I'm excited because it'll let me do, like, whatever I want," she said.