Bobcats' rally falls short in 17-14 loss to Mill Valley
Photo Gallery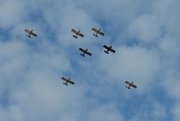 Mill Valley 17, Basehor-Linwood 14
Shawnee — The Basehor-Linwood football team is no longer undefeated, but the Bobcats came oh-so-close to pulling off a come-from-behind victory during a Friday night thriller at Mill Valley.
BLHS trailed by 10 points entering the fourth quarter and later made a fourth-down stop that got the Bobcats the ball back with a 3:15 to go and needing just 29 yards for the go-ahead score.
It didn't happen.
The Mill Valley defense held firm, and the Jaguars hung on for a 17-14 victory at MVHS.
It was a fitting finish to a game that was a nail-biter all night.
After a scoreless first quarter where Basehor-Linwood turned the ball over twice on interceptions, Mill Valley used a 20-yard punt return by Dylan Floyd — where he was sprung free by a bone-jarring block by Justin Muldoon — to set up a short field. Eight plays and 39 yards later, Kyle Brunson dragged the pile into the end zone for a 5-yard touchdown. Mark Biesma's extra point gave the Jaguars a 7-0 lead with 4:09 left in the second quarter.
Basehor answered right back with a 70-yard drive. Using a mix of runs by quarterback Brandon Leppke and passes to Ryan Murphy, Colin Murphy and Derek Shandy, BLHS mounted its best drive of the first half. Leppke connected with Ryan Murphy for a 15-yard touchdown with 40 seconds left before halftime. Bobby Courtney's extra point tied the game, and the score remained deadlocked at 7-7 at intermission.
Mill Valley drove 60 yards on its opening drive of the second half, riding a series of Brunson carries before quarterback Macauley Garton lofted a 17-yard pass that a well-covered Taylor Brown hauled in for a touchdown. Biesma's point after put the Jaguars ahead, 14-7, with 9:22 left in the third quarter.
Basehor countered with a long drive, but when it sputtered out the Bobcats attempted a fake punt. The effort was unsuccessful, and Mill Valley answered with a drive that resulted in a 17-yard field goal from Biesma three seconds into the fourth quarter.
BLHS fired for the end zone on its next drive, but Dylan Floyd outbattled Colin Murphy for the ball and came down with an interception. The Jaguars then drove to the BLHS 10-yard line before the Bobcats halted the threat.
Basehor then marched 90 yards on four plays — a 24-yard reception by Ryan Murphy, a 26-yard run by Leppke, an 11-yard catch by Colin Murphy and a 29-yard reception by Colin Murphy — the last of which produced a touchdown and brought BLHS within 17-14 with 4:32 remaining.
Mill Valley began its next drive at its own 20-yard line, but the Jaguars failed to pick up a first down. Facing fourth-and-inches, the Jaguars were unable to execute a quarterback sneak and the Bobcats took over in striking distance of a game-tying field goal or a go-ahead touchdown.
Just like the Jaguars moments earlier, the Bobcats were unable to move the ball this time. After a 6-yard run by Leppke on first down, the Jaguars made a stop and a sack. A Leppke pass to Cole Bittel on fourth down was broken up by Kyle Powers, and Mill Valley survived.
For a full recap of the game, pick up next week's issue of The Sentinel.