Bobcats tripped up by Jaguars
Matching fourth-down defensive stands cap nail-biter
Photo Gallery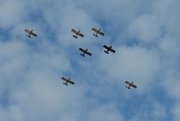 Mill Valley 17, Basehor-Linwood 14
Shawnee — In the end, the Basehor-Linwood football game against Mill Valley came down to a gut-check for each team's defense.
Both teams stood up to the test, and Mill Valley hung on for a 17-14 victory on its home field.
It was a remarkable finish to a game where Basehor proved it could play with the big boys and Mill Valley collected the victory it desperately needed.
BLHS halted Mill Valley on fourth-and-inches, giving the Bobcats the ball back with 3:15 to go and needing just 29 yards for the go-ahead score.
It didn't happen.
The Mill Valley defense held firm. The Jaguars pushed the Bobcats back out of field goal range and then batted away a fourth-down pass to preserve the victory.
"That stop on fourth-and-one was everything we ask our kids to do and believe in and accomplish. That gave our offense a chance," BLHS coach Steve Hopkins said. "If you'd have told me that our offense could not even get a first down from there, I'd have said 'you're nuts.' We had not had problems making first downs. Give (the Jaguars) all the credit in the world, they made a great stop."
It was a fitting finish to a game that was a nail-biter all night.
After a scoreless first quarter where Basehor-Linwood turned the ball over twice on interceptions, Mill Valley used a 20-yard punt return by Dylan Floyd — where he was sprung free by a bone-jarring block by Justin Muldoon — to set up a short field. Eight plays and 39 yards later, Kyle Brunson dragged the pile into the end zone for a 5-yard touchdown. Mark Biesma's extra point gave the Jaguars a 7-0 lead with 4:09 left in the second quarter.
Basehor answered right back with a 70-yard drive. Using a mix of runs by quarterback Brandon Leppke and passes to Ryan Murphy, Colin Murphy and Derek Shandy, BLHS mounted its best drive of the first half. Leppke connected with Ryan Murphy for a 15-yard touchdown with 40 seconds left before halftime. Bobby Courtney's extra point tied the game, and the score remained deadlocked at 7-7 at intermission.
"I really thought that we did not play with enough confidence early," Hopkins said. "That's the mental part of beating a team or playing with a team that's been your nemesis, and they've been our nemesis. There was a while in the first half that I think we were tentative. Then after halftime I thought we kind of said, 'you know what, we're in this.'"
Mill Valley scored on a 17-yard pass from Macauley Garton to Taylor Brown on its first drive of the third quarter to take a 14-7 lead.
Basehor countered with a long drive, but when it sputtered out the Bobcats attempted a fake punt. The effort was unsuccessful, and Mill Valley answered with a drive that resulted in a 17-yard field goal from Biesma three seconds into the fourth quarter.
"The worst thing that happened is the one fake punt by me was probably the turning point that I regret. That's on me," Hopkins said. "I should've punted them deep. I thought we had a big play."
Midway through the fourth quarter, BLHS marched 90 yards on four plays — a 24-yard reception by Ryan Murphy, a 26-yard run by Leppke, an 11-yard catch by Colin Murphy and a 29-yard reception by Colin Murphy — the last of which produced a touchdown and brought BLHS within 17-14 with 4:32 remaining.
Mill Valley began its next drive at its own 20-yard line, but the Jaguars failed to pick up a first down. Facing fourth-and-inches, the Jaguars were unable to execute a quarterback sneak and the Bobcats took over in striking distance of a game-tying field goal or a go-ahead touchdown.
Just like the Jaguars moments earlier, the Bobcats were unable to move the ball this time. After a 6-yard run by Leppke on first down, the Jaguars made a stop and a sack. A Leppke pass to Cole Bittel on fourth down was broken up by Kyle Powers, and Mill Valley survived.
It marked the first time all season that Basehor had been held under 40 points offensively. The Bobcats scored a combined 89 points in their first two games of the year.
"They've got a fantastic quarterback and they've got a fantastic offense," Mill Valley coach George Radell said of Basehor. "Fourteen points … to defend them on that, I thought the defense did a really good job."
Hopkins said the speed of Mill Valley's defense was better than any the Bobcats had seen previously.
"I told the guys at the end of the game that this will make us a better team," Hopkins said. "It'll give us a chance to be a state-caliber team."
Leppke rushed 21 times for 124 yards. Ryan Murphy had six catches for 87 yards and Colin Murphy had six catches for 81 yards.
Defensively, Chandler King led BLHS with 18 tackles. Jesse Hiss had 16 tackles, Richie O'Donnell had 11 and Jake Potts had 11.
Mill Valley (1-2) next plays at 7 p.m. Friday at home against Bonner Springs (1-2). Basehor (2-1) plays at 7 p.m. Friday at home against Turner (3-0).