Gardeners offer education, advice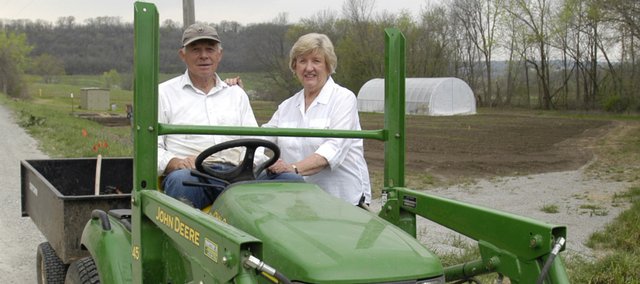 Becoming a master gardener involves a lot more than one might think.
Several master gardeners came to the Basehor Community Library Sept. 17 to talk about what it takes to achieve the title. The evening was the fourth and final in the library's series about master gardening, which also included discussions lead by Bill and Joy Kromer about herbs and heirloom tomatoes.
Experienced master gardener Sy Nyhart said a lot of education went into becoming a master gardener, and people needed to meet certain requirements to be considered.
"You have to have at least a high school education or equivalent," Nyhart said. "You need to have a broad interest in horticulture, you need to be willing to support the master gardening program and the county extension office, and you need to be able to comprehend the reading and training given to you."
All the training is research-based, Nyhart said, and the work is indigenous to the program's state. This is one reason why master gardening programs are broken down by state and county, Nyhart said.
"You might have been a master gardener and done a lot of work in Louisiana, but that climate and environment is a lot different from what you find here," he said. "So you'd have to retrain based on research in Kansas."
When people are accepted into the program, they pay a one-time fee of $150 and take a 40-hour course. After the course is completed, graduates spend an additional 40 hours completing various tasks for the program and extension office. Of the 40 hours, 15 must be used answering phones at the master gardening hotline, a number people call when they have questions about their gardens. If the 40 post-graduation hours are completed within one year, the gardener will receive $50 back from the initial fee. Master gardeners who stay in the program receive training and do volunteer service every year, Nyhart said, but people can get out of the program anytime they want.
As a rookie master gardener, Pat Matthews has been pleased with her first year in the program. Matthews said she didn't know too much about gardening when she joined, but she acquired a vast amount of information during her training from people who were eager to teach.
"It's a powerful learning experience, but it's not an intimidating one," Matthews said. "I've never met a group of people more humble about what they know."
The temptation to go wild on one's own garden is strong in the beginning, Matthews said. It's important to try new things, but master gardeners also need to know their personal limitations.
"My first piece of advice is start small," Matthews said. "But no one really listens to that, so just get in there and do it."
At the end of the library discussion, Nyhart stressed the necessity of spare time when becoming a master gardener. The program is not for everyone, he said.
"You really have to have the time to give to it," Nyhart said. "If you're working full time with three kids, my contention is you just don't have time yet. Wait until things settle. When you do have the time, it can be a wonderful experience."