Keeping it green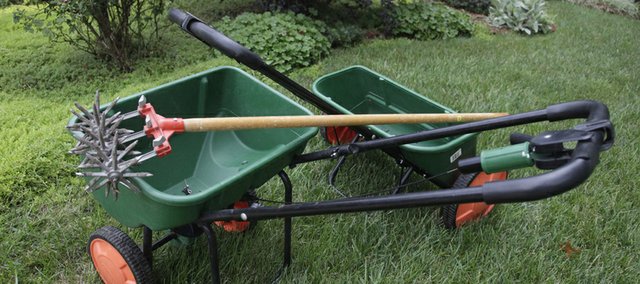 Mike Epler, K-State/Leavenworth County Extension agent, talks about fall lawn care.
Q: What is the most important step to maintaining a yard in the fall?
A: Fall fertilization is crucial for a healthy lawn. If you are reseeding your yard, wait to fertilize until October and use half of the recommended amount. Have a soil sample tested at your local Extension Office if you are not sure whether your yard needs fertilization. Results take about two weeks.
Q: Fall weather means it's time to break out the leaf rake. With many people in search of more eco-friendly lifestyles, how can they turn fallen leaves into something useful?
A: There is no harm in leaving leaves in the yard and going over them with the lawnmower, but many people find this aesthetically unappealing. One alternative is mulching fallen leaves and adding them to your vegetable garden.
Q: What is the healthiest length for grass in the fall, and how often should the lawn mower go out for a spin?
A: This depends on the type of grass. Cool season grasses, such as Kentucky bluegrass and fescue, are the most common locally and should be kept at about two-and-a-half inches. Warm season grasses, such as buffalo and zoysia, should be kept at two inches.
Q: What types of yard treatments are best done in the fall, and which are best left to professionals?
A: Spraying for weeds during this time of vulnerability will keep them from growing back in the spring. Around Halloween is a good time to spray for these weeds because most vegetables and ornamental plants are dormant for the year and the chemicals will not harm them. Have a professional perform this treatment if you are uncomfortable handling the weed chemicals or want to try something restricted to professional use.
Q: How can homeowners best prepare their yards for winter?
A: The best way to prepare your lawn for winter is to perform a proper care routine in the fall. For an established lawn: fertilize in late September/early October, spray for weeds in October, and fertilize again and finish mowing for the season in November.