'Perfect' weather attracts runners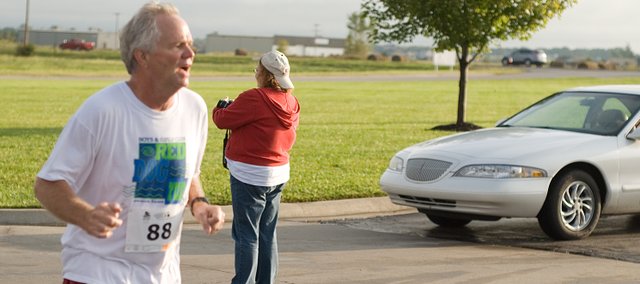 Phil Struble wasn't expecting to be the first person to cross the finish line during the 5K run/walk Saturday.
But he said the weather was perfect for running.
"That hasn't happened in 34 years," he said about his first-place finish.
Struble and 42 other runners and walkers came out to support both the community and a healthier lifestyle as part of the Lawrence Memorial Hospital Endowment Association's inaugural "small town BIG CAUSE" 5K Run/Walk.
Just before 8 a.m., the participants gathered next to the LMH Family Medicine of Tonganoxie building, 410 Woodfield Dr., to start the race.
Saturday's course took the participants up Laming Road to Tonganoxie Drive, through a residential area and back down to the facility.
Elizabeth Beal, the newest doctor at the LMH facility in Tonganoxie, said she loved the event because it gave her a chance to see a part of the town on foot. She said she also thought the event was providing a good message for the community.
"It's a great way to promote healthy living and a healthy lifestyle," Beal said. "I think it's a good way to get people motivated to get up and get active."
Kathy Clausing-Willis, vice president and chief development officer for LMH, said the event in Tonganoxie was part of the hospital's three goals to promote wellness, reach out to communities and to help raise money for the non-profit hospital.
"It's important that we get philanthropic and charitable support," she said. "We take care of everyone that comes to the hospital."
She said that living a healthier life can keep people out of the hospital and save everybody money.
Although the number of participants was fewer than expected, Starla Jones, senior systems administrator for LMH and co-chair of the event, said she expects more people will be able to come out if they move the event date to the summer so it won't interfere with high school and college sports as well as LMH's annual health fair.
Also missing from the run was Jez Luckett, wellness champion for LMH Endowment's "small town BIG CAUSE" 5K run/walk series, and participant of the fourth season of NBC's "The Biggest Loser," who originally was scheduled to be at the event.
Asked if he would try to get the top spot in the fun next year, Struble said, "Hopefully next year there will be twice as many people and I won't have to worry about it."