Community responds to mayor's animal pledge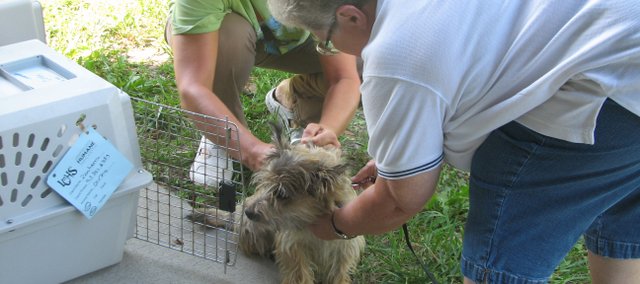 In response to Mayor Terry Hill's pledge to make Basehor a no-kill city with respect to animals, a group of community members is coming together to take on the task.
The Basehor Animal Companion Committee, made up of eight people, will meet twice within the next two months to formulate a plan to carry out the mayor's mission.
Chairman of the committee and Basehor City Council member Bill Moyer got involved because of his devotion to his own pets.
"I'm a pet owner, myself, and I care about my dogs and cats at home," Moyer said. "That's why I decided to take this on for the mayor. And, if I'm going to be a city council member, what better way to make this happen than to have a council member on the board?"
Basehor has thus far done well with animal control, Moyer said, but the committee wants to take those successes further.
"The city is on the right track now," Moyer said. "We have a great animal control officer, and we have established a temporary shelter at our wastewater treatment facility. But to make Basehor no-kill, we have more work to do."
At the end of April, the first meeting will convene, during which the group will begin completing a list of objectives Moyer says includes:
• Defining what the term "no kill" means for Basehor.
• Reviewing the processes and procedures in place to recover stray animals in the city limits.
• Reviewing all current pet-related ordinances.
• Reviewing licensing and fees related to pet ownership.
• Reviewing funding currently in place to potentially support a no-kill program.
• Reviewing initiatives currently executed in neighboring communities like micro chips.
• Increasing the amount of animal control information on the city's Web site.
• Making recommendations to the mayor and the city council.
Moyer said he had already established which entities would be the major players throughout this process.
"Making Basehor no-kill isn't just about what the city does," Moyer said. "I've realized that work really ends up with shelters, rescues, humane societies and vets. The city then educates its citizens and creates policies, ordinances and procedures that allow vets, shelters and rescues to uphold that pledge to not euthanize animals."
Beyond making Basehor a no-kill city, another of Moyer's goals for animal control is to promote countywide participation. This would involve creating a Leavenworth County animal control enforcement team, an animal rescue shelter constructed in the county, and sustaining strong relationships between cities and local shelters, rescues and the county humane society.
Though he is realistic about the outcome, Moyer says he has an extensive vision for Basehor and Leavenworth County as compassionate, humane and effective enforcers of animal care.
"I'm a pragmatist when it comes to this," Moyer said. "I realize we can't save every animal all the time, but that should be our goal. There are a lot of people in this community who are passionate about it, and together, we can really make something happen."