Lawmaker fights back following bypass surgery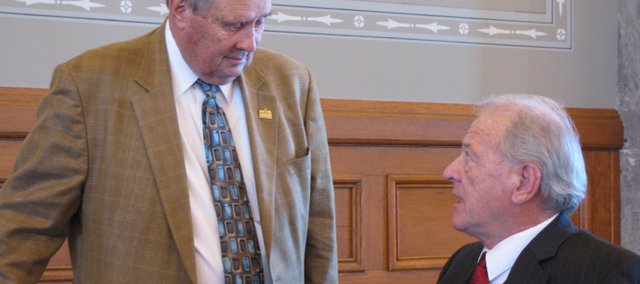 In a test he almost skipped because he had never felt healthier, Rep. Owen Donohoe, R-Shawnee, discovered his heart wasn't receiving enough oxygen.
With the Legislative session starting, the representative of the 39th District, which covers Shawnee and parts of Bonner Springs and Basehor, was forced to step back and make his health his number one priority.
"Bypass is debilitating," Donohoe said. "You have no strength, it takes everything out of you. But I was committed to getting back. You just have to get yourself back."
Donohoe has been having annual health exams since 18 years ago, when he had a kidney transplant, which was donated to him by his daughter. The medications he takes from that surgery, he said, have a tendency to elevate cholesterol levels. That, along with a long family history of heart problems, had Donohoe committed to doing everything he could to avoid this outcome.
Before his stress test in December, Donohoe said he worked out daily on his treadmill and often got his heart rate up to 140.
"It was surprising," Donohoe said of the test's results. "I was in very good shape. "(My doctor) said I was lucky because I have a strong heart because I work out. There was no heart damage, no muscle damage, just blockage."
Donohoe said initially doctors attempted to use stints, a less invasive procedure to remove blockage, but when that didn't work, a bypass became his best option.
On Jan. 12, Donohoe underwent the bypass surgery.
While no complications occurred as part of the surgery, again his kidney transplant came into play. To avoid his body rejecting the new kidney, Donohoe has to take immune system suppressing medications, which make him more susceptible to catching illnesses than the average person.
Donohoe said shortly after the surgery he contracted an eye infection, slowing his recovery process, as least by his standards.
Donohoe said his doctors told him he could start going back to work slowly in six to eight weeks, but Donohoe said he was back in the office after three to four.
While not fulltime, Donohoe tried his best to stay updated about what was happening in the legislative session without him.
In the meantime, Donohoe was working to get his strength back. Using his treadmill and a series of breathing exercises, Donohoe said he made quick progress.
"I get stronger every day," he said. "I'm still not back to where I was."
Throughout everything, Donohoe said he never once considered stepping down from his position as representative.
"I have an obligation and things I want to accomplish, things that need to be accomplished," he said. "I wouldn't be living up to my own philosophy or my commitment if I just bailed."
Donohoe returned to his seat in the House on Feb. 22. He said luckily no important votes occurred without him, as he jumped in right where he left off.
The biggest issue on his mind, and the reason he said he plans to run for reelection when his term expires, is the state's budget. He said finding ways to rectify the budget shortfall, lessening the impact on education and creating new jobs would be his primary focus.
He also said using his own experience regarding heart problems was an opportunity to educate others. In his case, he said he never had shortness of breath or other signs there was a problem with his heart. Because of that, he said he would encourage anyone to heart screenings regularly.
"As we all understand, health is first and foremost," he said. "It's wise to make sure you're getting the checkups you need. Follow through, because things could be going on you may not be aware of. When you get that accomplished, you can accomplish other goals."