Storm takes roof off church, knocks out power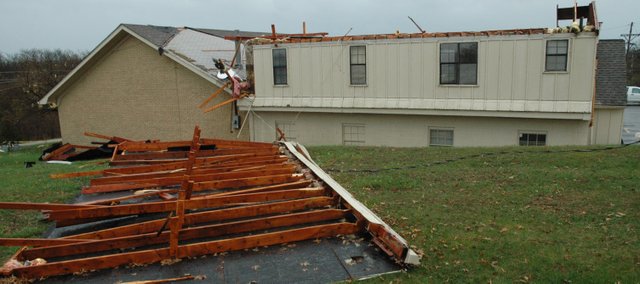 A storm struck the Bonner Springs area Friday morning, causing severe damage to a local building and knocking out power in some areas.
First Pentecostal Church, 94 S. 130th St., bore the brunt of the storm as one of the church buildings had its roof ripped off and thrown about the property. Debris of the roof, in turn, brought down a power line taking out electricity in the area of Kansas Highway 7 and Kansas Avenue.
Jim Parker, pastor of First Pentecostal Church, said the roof of the church annex was completely torn off, causing water damage to an upstairs apartment and lower floor office area. Another section of roof on the church main building, which is attached to the annex, was also gone, causing more water damage to the sanctuary portion of the church.
Across a parking lot is the Family Life Center, which had shingle and soffit damage to its exterior. The church exterior sign was also blown out of place and rested among other debris that littered the church property.
As Easter Sunday nears, the church had cleanup crews and contractors on site Friday to begin fixing the damage.
Parker said a trailer was being brought in to house office equipment and the Family Life Center would be turned into a temporary sanctuary as Easter services would continue as planned.
"We will adapt," Parker said. "We will have Sunday services at 10 a.m. and 6 p.m. This is just a wrinkle. We'll be fine."
Lt. Rick Schubert with the Bonner Springs Police Department said the power loss caused by the church roof also caused traffic lights at K-7 and Kansas Avenue and K-7 and Interstate 70 to be out.
Schubert said an injury accident at K-7 and 130th Street had occurred because of the traffic signal being out, but said no other injuries had been reported as a result of the storm.
"At this point we're working to get a generator to get the traffic lights up and running," Schubert said.