Burger King opens doors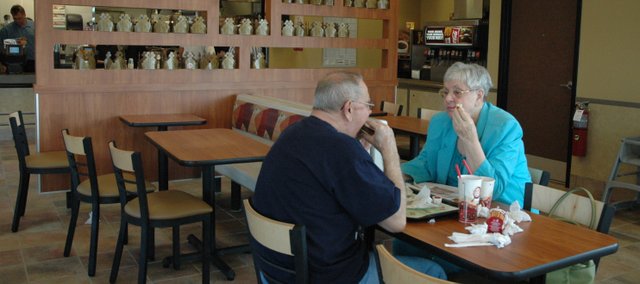 A familiar, mouth-watering, flame-broiled scent wafts through the air, signaling the opening of Burger King in Bonner Springs.
The "Home of the Whopper" has only been open since Saturday, April 3, but general manager Scott Baird said the restaurant had already seen close to 1,000 customers a day, with the majority of those customers ordering their food byway of the drive-thru.
One of the dining room customers, enjoying a Whopper and fries with her family Monday night, was Azeneta Aranda, who only had one thing on her mind when she first saw the sign saying Burger King was "now open."
"I better go before my belly starts growling," she remembers thinking, noting how "delicious" the food at Burger King tastes.

This was Aranda and her family's first visit to the Bonner Springs Burger King, but a few tables away were Roger and Ann Gaume.
"Oh we like it," Ann said. "We've been here twice since they've opened up. It's a good place to eat."
"We like Burger King better than McDonald's" added Roger.
The close proximity to McDonald's almost directly across the street from Burger King will certainly make for some competition, said economic and community development director Marcia Ashford, but the kind of competition that's needed to help stimulate growth in Bonner Springs.
"Competition between businesses is always present," Ashford said. "Typically, you will find that businesses tend to cluster in a particular location because the more a commercial area has to offer, the more traffic it brings to the businesses. Thus, the increased traffic generates more sales for a given area. The city not only benefits by having more restaurant choices for citizens and visitors, but also from the additional revenues that helps Bonner Springs prosper."
Burger King offers everything from sandwiches to salads to breakfast items. But the most popular item sold since its Saturday opening? Baird said hands down that honor must go to the Whopper and its mini counterpart, the Whopper Jr.
Burger King is at 540 129th St. The dining room is open from 5:30 a.m. to 11 p.m. daily, and the drive-thru is open 24 hours each day.