Cyclones strike early, beat Bobcats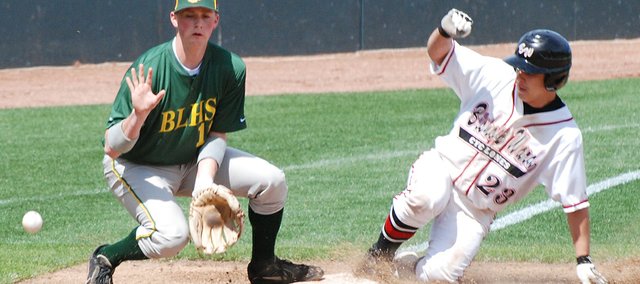 KANSAS CITY, KAN. — The weather was perfect, but not much else was for the Basehor-Linwood baseball team when it opened its season against Bishop Ward on Saturday at CommunityAmerica Ballpark.
Photo Gallery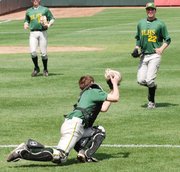 Bishop Ward baseball 5, Basehor-Linwood 1
The Bobcats shook off plenty of offseason rust in the form of two early errors, numerous walks, a few hit batters and multiple on-base mental miscues in a 5-1 loss.
"Unfortunately we didn't come out prepared to play, and against a really good team — against a team with tradition that's going to battle you from pitch one — if you don't come out from pitch one ready to play, you're going to end up in trouble. To our credit, we minimized the damage there in the first (inning), but against a good pitcher as well even minimizing the damage wasn't good enough."
Despite so much going uncharacteristically wrong early, the Bobcats never were out of the game. They weathered the adversity by getting Ward to strand the bases loaded three times.
Most of the damage took place in the first inning. BLHS opened the top of the first inning with back-to-back walks by Destry Bryan and Brandon Leppke, but Bryan got picked off at second base and the next two batters got out. The Cyclones then seized control in the bottom of the inning.
After getting a quick first out, things spiraled out of control. Alex Orel reached on a fielding error. Jake Kolenda followed with a single. The next three batters walked. One run scored on a walk, and another came in on a wild throw to third base. A passed ball and a fielder's choice plated two more runners to make it 4-0.
Basehor battled back for a run in the top of the second. Nathan Quigley led off with an infield single, advanced to second on a walk by Jared Patton and then took third on a double-steal that happened thanks to a defensive miscue by Ward. Quigley then scored on a single by Dylan Belt. BLHS likely could have added another run in the inning after an error on a pickoff attempt, but inattentive base running kept a run from scoring before Ward got out of the inning.
The Cyclones stranded the bases loaded during the second, third and fourth innings thanks to three hits, five walks and two hit batters, but they managed to scratch only one run across during that span and led just 5-1 after four innings.
Each team had a hit but no runs in the fifth inning. BLHS put one aboard in the sixth and Ward mustered two base runners, but again neither team scored. Leppke earned a two-out walk in the seventh, but the Bobcats were unable to bring him home.
Leppke finished 1-for-2 at the plate with a single and two walks. Quigley went 1-for-2 with a single, a walk and a run scored. Johnson went 1-for-2 with a single and a walk. Belt was 1-for-3 with a single and an RBI.
Despite the loss, Svoboda said he saw quite a few positives in his team's performance. His pitchers walked 12 Cyclones, but he liked the way Bryan and Jeff Johnson battled long into counts. Meanwhile, he knows starter Tyler Henley will be better.
Svoboda said he was pleased with the way many of his players battled at the plate, even if they didn't deliver a hit. He also liked the way the outfielders performed, and he credited reserve infielder Dylan Belt with doing a solid job at third base when he was placed into the starting lineup after an injury to Ryan Lawless.
Svoboda also noted that his team will play at CommunityAmerica Ballpark numerous other times this season, so the early exposure to the large stadium should benefit them in the long run.
"We're going to play in this yard at least four more times," Svoboda said. "We've got the Bonner Springs tournament later, and this is where the (Class 4A) regional (tournament) is going to be, and that's going to take some of the nerves away. I think being able to play in a facility like this particularly when some of guys are doing it for first time at varsity level, now those nerves are over with, now that's something they've put in their back pocket and should be just fine with."
Basehor (0-1) was slated to play at 4:30 p.m. Wednesday at Tonganoxie. Results were unavailable at press time.