Museum shows evolution of barns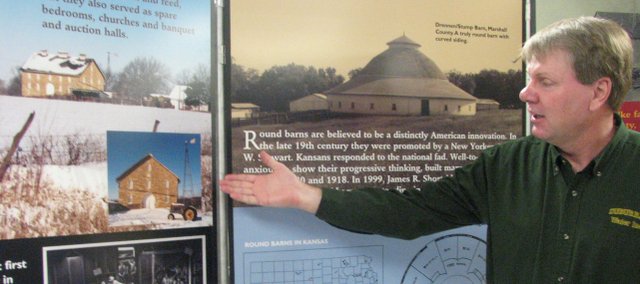 Barns are as American as apple pie.
Such is the contention of the Basehor Historical Museum's newest exhibit, "Barns of Yesterday: Remembering Kansas Barns."
This bright display, sponsored by Suburban Water Company, takes visitors through the evolution of barns in the state, paying homage to the men and women of each barn's era.
To Kansas Barn Alliance member Sally Hatcher, barns represent the course of time, as these structures were built to accommodate people's needs throughout the decades.
"Barns show how agriculture, family farms and communities have changed," Hatcher said. "Everything is so mechanized now, but you can tell which are the pre-tractor barns. What we've lost is the sense of community, and that shows in the decline of our small towns."
Hatcher grew up on a farm in Michigan, and she has spent her retirement years advocating for the preservation of barns around the state. She has been in several of the barns featured in the museum exhibit, and she considers each one a unique masterpiece.
"This barn is just extraordinary," Hatcher says pointing to a picture of the Drennen-Stump barn in Marshall County. The large round barn was built by Benton Steel, of Halstead, in 1911 for the purpose of housing registered Herefords. It's dome-like top is self-supported, and it still stands today in excellent condition, Hatcher said. "It's just amazing when you look up and see all that open space."
Photo Gallery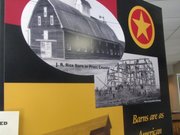 Remembering Kansas Barns
Suburban Water Company President Mike Breuer remembers his own family's barn as he looks around the exhibit his business sponsored.
"This looks exactly like our old barn," Breuer says gesturing to a picture on the museum's door.
Through his own experiences on a farm and the knowledge he gained from his father, Breuer is able to deduce a lot from examining each photograph.
"These doors would have been used to lift up hay," he says, tracing his fingers around the image of a forebay barn. "The hay up here would have been loose, and they'd drop it down to the herd."
Many historians today look to barn architecture, like Breuer did as he wandered through the museum, to determine how cultural ideas shifted throughout history. Breuer draws conclusions about Kansas barn history similar to Hatcher's.
"I think it's interesting how times change," he said. "Building a barn used to be a community effort. Now, instead of wood it's steel, and people have the construction down to a science."
The exhibit thoroughly demonstrates changing times from early traditional red barns in the country to late carriage houses in the city. Images and artifacts housed in the display tell the story of Kansas, a state molded from the strides of our agricultural ancestors.
"Barns of Yesterday: Remembering Kansas Barns" will be on display at the museum, 2812 N. 155th St., through the month of April. Sally Hatcher will give a presentation on Kansas barns at 10 a.m. April 17 at the museum.
Visitors are welcome to view the exhibit anytime during the museum's business hours, 9 a.m. to noon Tuesdays, from 1 p.m. to 4 p.m. Thursdays and 9 a.m. to 2 p.m. Saturdays.