Students tackle problem-solving skills during competition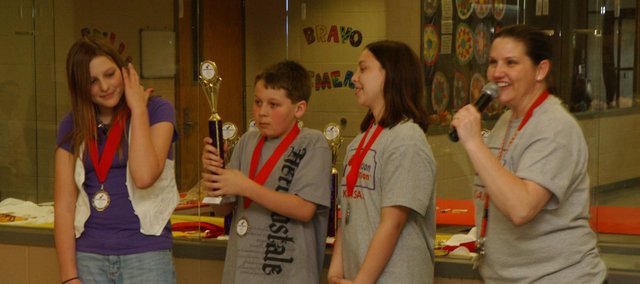 The paper structure built by the Paper to the People team of Clark Middle School for Saturday's state Destination ImagiNation competition in Tonganoxie didn't perform as hoped.
"We built it out of newspaper," team member Sam Nelson explained. "It had to support weight. It didn't support much. It was a failure."
But Quinn Bonge said it wasn't a complete failure.
"We learned from the experience," she said. "Hopefully, we'll do better next time."
The Paper to the People team of Nelson, Bonge, Courtney Roush, Taryn Bemigio, Emily Nelson, Winter Gilchrist and Jacob Dobbs was joined at the competition by the Clark Middle School Robo Kids team of Tyler Campbell, Madison Stumbough and Mikaela Bennett, who used a remote controlled toy car as the basis of their entry into the a robot competition. Two caretakers used the robot to carry food to a third person, Madison said.
Asked what they got from the competition, the three team members answered "teamwork."
The driving force behind Saturday's competition was Tonganoxie Middle School Principal Jill Dickerson. She started looking for programs several years ago as a way to reach out to all students rather than just those identified as needing extra help on state assessment tests, she said.
She settled on Destination ImagiNation, a nonprofit enhancement program developed by the Center of Creative Learning and The Creative Problem Solving Group, because it was versatile, Dickerson said. Students could compete in six different subject categories. In addition to the technical and scientific classifications of many academic challenges, Destination ImagiNation adds those in the fine arts and improvisational acting.
"I was also looking for a program that could be utilized in the classrooms," she said. "We're getting a lot of mileage out of some of the challenges. People were like, 'This is fun. I might try to do this with my kids.'"
The competition emphasizes creativity, teamwork and problem-solving. Those are skills employers are seeking to compete with overseas challenges, Dickerson said.
There was a problem in that Destination ImagiNation didn't exist in Kansas. That problem was solved when Dickerson became the state director and started recruiting other schools and Trane of Kansas City signed on as sponsor.
Joining the Clark Middle School at the competition were teams from Tonganoxie Elementary and Middle schools, Eudora High School and El Dorado Middle School.
Kim Nelson, mother of Paper to the People team members, said it was difficult to watch from the sidelines as the team worked on its challenge. Parents were limited to asking simple questions about whether the team had tried a solution or sought help from a potential resource, she said.
"It was very hard," she said. "You don't realize how much you want to help your children and do help until you give them a task you can't have anything to do with."