Tonganoxie City Council shelves 4th Street improvements, OKs
CIP

bonding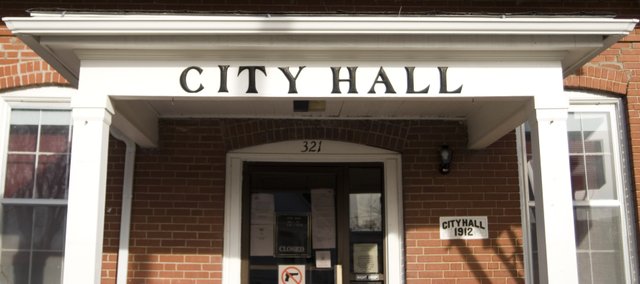 There were procedural hiccups, but the Tonganoxie City Council approved Monday bonding for nearly $700,000 in capital improvement projects for 2010.
Perhaps not surprisingly, the resolutions needed to authorize the bonding got extra messy because of the council's decision to shelve at least for one more year the Fourth Street improvement project.
The final bond actions came after a resolution including the Fourth Street improvements failed with Councilmen Tom Putthoff, Burdel Welsh and Jason Ward voting no. The vote confirmed the council's consensus of last month when the bonding was first considered.
"My opinion hasn't changed of Fourth Street," Putthoff said. "I don't see the necessity to do that street right now."
Things then got complicated as the council had to rescind an approved resolution defining bond projects that excluded the Fourth Street project but which also overlooked the waterline relocation on the street. After untying that knot, the council approved bond projects including:
• The 4th Street waterline relocation for $237,680.
• The $52,689 city match to the Kansas Department of Transportation Pleasant Street bridge project.
• The fire station renovation and expansion for $200,000.
• Reimbursement of $200,000 spent for the Fourth Street project's engineering and design, easement acquisition and appraisals. The reimbursed funds are to pay for needed street projects, including the reconstruction projects to Delaware Street one block south of Washington, Pleasant Street one block south of Washington Street, Ridge Street from U.S. 24/40 to Ridge Circle, pothole repairs and replacement of crosswalks on Fourth Street.
The decision to delay Fourth Street improvements was made despite council action in December to award a contract for the project to Meadows Construction. City Attorney Mike Kelly said might have to take possession of concrete blocks the firm bought for the work if they can't be returned.
Council members Ward and Putthoff argued for the inclusion of the fire station expansion, saying it was a public safety issue. The added bedrooms, showers and restrooms would allow for 24-hour staffing and perhaps prevent the city from losing more firefighters, Ward said.
"We don't have the ability to add salary," he said. "Maybe this will allow us to be more competitive."
Fourth Street remained a priority, and the city might be able to fund that improvement next year, Ward said.
But the removal of Fourth Street remained a disappointment to supporters JIm Truesdell and Paula Crook, who voted against the fire station expansion.
In other business, the council:
• Scheduled a hearing on a proposed neighborhood revitalization plan for April 26.
• Approved Fire Chief David Bennett's recommendation to hire Tammie McCutchen and Adam Griffith as full-time firefighters.
• Approved a special event application for a 5K run/walk at Genesis Christian Academy.