Courtney jumps at opportunity to jump in college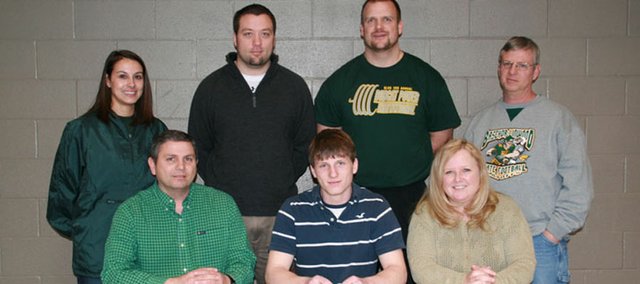 As a senior with many talents and interests, Bobby Courtney had to make difficult choices in determining where to attend college.
Courtney wants to study medicine.
A student with a 3.9 grade-point average, all A's with the exception of a couple B's during his freshman year, he has aspirations of someday being called a doctor.
Courtney, a senior at Basehor-Linwood High School, is also an athlete, a cornerback in football season, and a two-sport standout in the spring with golf and track.
With this list of academic and athletic interests, Courtney was searching for a college where he could continue playing sports — at least one of them — and get a quality education.
He had offers to play football at some schools, and others wanted him to play golf. While he wouldn't have minded those opportunities, none felt like his college destination.
All of this changed when he visited Northwest Missouri State University in Maryville, Mo.
On his visit, Courtney loved the campus, specifically the biology department.
"It is a good program that will lead me to where I need to be for medical school," he said.
After meeting with the school's jumps coach, he was offered a chance to compete in high jump at the school.
Following the visit, Courtney signed a scholarship to compete in track at Northwest Missouri next year. He also received an academic scholarship.
He plans to compete in the high jump. Coaches have talked to him about possibly competing as a decathlete.
Now, as he enters his busiest season of the year, with track practice in the morning and golf after school, Courtney is pleased to have his college choice made.
"Definitely, this is a weight off my shoulders to know my plan for next year and to be able to compete for a college," he said. "I am excited about it."
He credits the strength and conditioning program at BLHS with helping put him in a position to compete in college. Strength coach Ross Schwisow has played a pivotal role in helping him get stronger.
Courtney also thanked his parents, Bruce and Joanne, for what they have done for him. Bobby is actually coached by his father this season in golf and the two spend a lot of time working together. Bruce Courtney teaches at the school and is an assistant football and girls basketball coach.
In the end, Bobby said it is hard to believe that his high school career is winding down. As a freshman, people told him it would go fast but he didn't really believe them. Now, as the senior countdown begins and his final season of high school competition commences, Courtney hopes to help both the track and golf teams reach state.
"Yeah, definitely a trip to state in both would be good; to be able to go as a team in both would be good," he said. "I think that would be reachable."