Hooked on art
Student artist presents creations at show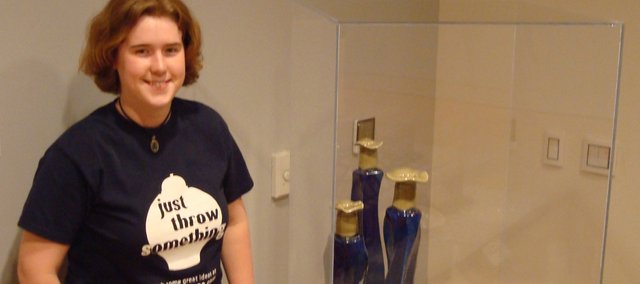 As a young girl, Basehor native Eleanor Heimbaugh was fascinated with Play-Doh. But little did Heimbaugh know then, the soft, bright material would ignite her love for creating clay artwork.
Now a Washburn University freshman, Heimbaugh has one of her newest ceramic pieces, "Lilies on Water," on display at the university's student art show in the Mulvane Art Museum.
"It's pretty exciting," Heimbaugh said of being selected to have her work appear in the show. "Every time you get selected for something like this, it's exciting."
Heimbaugh began honing her artistic talent in high school when she took a ceramics class. She knew during her hands' initial introduction to the clay, it was the beginning of a long-lasting friendship.
"At first I was like, 'Oh, this is like big kid Play-Doh,'" she said with a laugh. "I was hooked. I just knew there was something special there."
Her enthusiasm was such that she usually arrived at high school far before the bell sounded and stayed long after the day's end to practice and learn new techniques.
"It was during my senior year I decided I wanted to do something with it," Heimbaugh said. "It was that time I was sure I wanted to keep going."
After a thorough review of art schools and programs, Heimbaugh chose to attend Washburn in Topeka, and there she continued crafting extraordinary pieces, drawing inspiration from her surroundings. "Lilies on Water" is the product of Heimbaugh's appreciation for nature.
"I like doing a lot with nature," Heimbaugh said. "I've always been inspired by lilies, especially water lilies because they're just so beautiful."
Every dimension of the work was subject to Heimbaugh's careful consideration, from the color to the angles to the light reflecting off its surface.
"I wanted to convey something in 3D without being cliché," Heimbaugh said. "At first, I thought I would use tiles, but then I chose porcelain as the medium because of its luminescence."
The result is an arrangement of serene blossoms resting on individual columns of rippling water, which the Washburn art department deemed worthy of a place in its 2010 show.
Looking back on the project, Heimbaugh sees it as an experience rich in maturation with which she is mostly pleased.
"I'd say I'm happy with it," she said. "It was a growing stage for me. I have a lot of growth in that piece. It was just something I wanted to say, that people should stop and take the time to notice nature with all its beauty."
Through the coming stages of growth as a young artist, Heimbaugh aspires to become a ceramics professor. She sees this as the perfect way to share the joy of creating original pieces with others.
Heimbaugh's work "Lilies on Water" will be featured in the Mulvane Art Museum, 17th Street and Jewell in Topeka, through June 6.
For more information, contact the museum at (785) 670-1124.