City to sponsor spring cleanup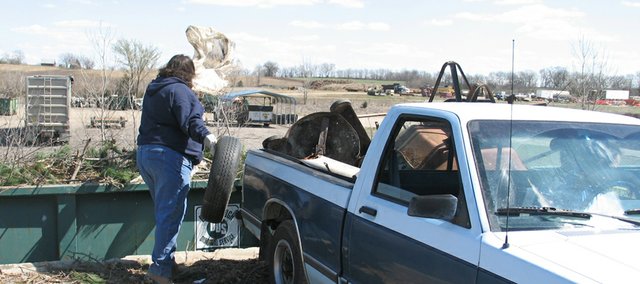 The city of Lansing will conduct its annual Spring Clean Up at the Leavenworth County Transfer Station (on Gilman Road near the former McIntyre Mann Carpet building) on Friday and Saturday, April 23 and 24.
Lansing residents can bring their trash between 7 a.m. and 4 p.m. Friday and 8 a.m. and 2 p.m. Saturday. Residents must show a valid drivers license to receive this free service.
Residents may bring standard waste, old tires, household hazardous waste products including paint, thinner, anti-freeze and other automotive products. Please note: motor oil will NOT be accepted. Pesticides, herbicides, insecticides and other yard products can be disposed of as well. Also being accepted are household cleaning products, batteries, yard waste (including grass, leaves, tree limbs and brush). Construction and demolition waste, appliances and metal items may also be disposed of during the cleanup. Please note: concrete waste will NOT be accepted.
Burn barrels can also be dropped off, provided all residue is placed in plastic bags, watered down and put in a cardboard box.
Please note that the city will be able to dispose of old electronic items, however these items will not be recycled. If residents want to recycle these items, please go to www.recyclespot.org for recycling options.
If you are elderly or physically unable to travel to the Leavenworth County Transfer Station, call Lansing City Hall at 727-3036 by Friday, April 16, to have your items picked up on Friday, April 23.
For more information, contact Ken Miller at 913-208-6650 or miller@lansing.ks.us.