Assembly's strong message offers drunk driving warning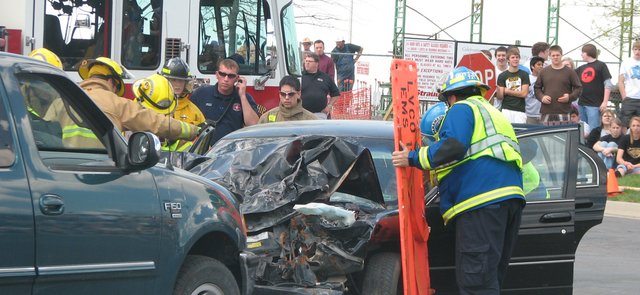 April 15 started out like any other day at Basehor-Linwood High School.
But that afternoon, the entire student body was witness to a drunk driving accident in the school's parking lot.
High school students Ethan Duffey, Bryce Garver, Maggie Hattock, Courtney Poe and Christina Self participated in a simulated car crash to bring home a point to their classmates: Drinking and driving is never worth the consequences.
Fairmount Township Fire Department, Basehor Police Department, Leavenworth County Emergency Medical Services, Leavenworth County Health Department and Kansas Highway Patrol personnel volunteered their time during the event to assist the students in creating a realistic emergency situation.
Upon exiting the high school for a surprise assembly, students started to hear people screaming, crying and pleading for help. They soon stood in front of a mangled car that had collided with a pickup truck. Self lay outside the car motionless. Numerous emergency vehicles rushed to the scene within seconds, sirens blaring, to aid the other teens trapped inside the car.
Fairmount Township Fire Department Assistant Chief Chuck Magaha talked to the students outside while rescue workers pulled and pried the car to free Duffey, Hattock and Poe.
"I have cadets with Fairmount Township Fire Department here today," Magaha said to the students as the crews continued working. "Talk to them sometime about what it's like to be on an accident scene, hearing those people screaming, seeing the fatality of individuals that did not have the opportunity because it was someone else's mistake. It was time for us as responders to present to you what it's actually like for us, what we feel in the scene."
The student audience also heard from several members of the Kansas Highway Patrol, Basehor Police Chief Lloyd Martley and Leavenworth County Health Department director Jamie Miller about the dangers of driving after consuming alcohol and driving recklessly.
Basehor-Linwood teacher Becky Matthews took part in organizing the assembly, which she said sent an extremely important message to the students. Matthews thought the surprising nature of the event combined with its realistic elements grabbed students' attention.
"A lot of students expressed how scary it was to see it so close. Others thought that the whole thing was really neat to see, but realized that it is a much more serious situation than they thought before," Matthews said. "All of the feedback I heard was positive. Students who thought it was going to be just another assembly felt like it captured their interest and taught them something. Hopefully, they will remember those lessons when they are faced with tough choices."
At the close of the event, the students returned to their classrooms to participate in several activities related to the assembly, such as a drinking facts and myths quiz and a virtual party that allowed students to see how different characters' decisions drastically changed the outcome of their night.
"If we can get one student to make a wise decision and not drink and drive, or not get in the car with someone who has been drinking, we will have accomplished our goal," Matthews said about the day's lessons. "The whole goal is to make students think about the choices they are faced with every day and make the positive decision. The consequences of making destructive decisions are just too severe to chance it."
Matthews said she wanted to thank Magaha and the rest of the emergency personnel that helped with the event, along with the five students involved in the assembly and the entire high school staff and student body.