Council member opens real estate agency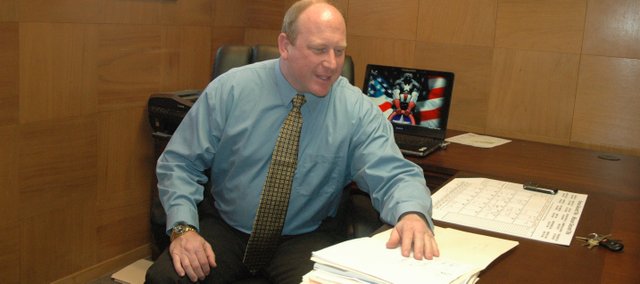 Bonner Springs City Council member Wayne Gray can now add real estate business owner to his list of achievements.
Gray opened The Gray Agency Inc., 134 N. Nettleton, in March, bringing to his new place of business an independent spirit he says started years ago.
"Probably the neighborhood I grew up in in Kansas City, Kan.," Gray said. "My dad owned his own business, my neighbors were all … business owners of their own, whether they were real estate agents, dentists, judges, they were all kind of self-motivated people. And so that was probably a good influence on me to want to be my own boss."
This isn't Gray's first venture into business ownership, however. He was a real estate agent working for Reece and Nichols Roberts in Kansas City, Kan., prior to opening his own real estate agency but, prior to that, he ran his own insurance agency for 10 years. He says owning and operating a business, though demanding greater personal responsibility, can also allow for a greater sense of personal fulfillment.
"It teaches you some things about yourself and (makes for) good character development," Gray said. "That not every success lasts forever and neither does every failure."
Despite having only been open about a month, Gray said he's already proved to himself how successful his business may be in the future. He said he has several clients that came with him from Reece and Nichols and though he mainly works with the housing market, "helping sellers sell and buyers buy," he said his first major closing deal was a 20,000 square-foot commercial space in Lenexa. He has also had several other closings since his March opening.
Gray just hired his first agent, Rebecca Sharp, and plans to hire more in the near future — but not too many, he says. Keeping things small was the point of branching out on his own in the first place.
"I think not being a bigger company … I can spend more time with clients, and my clients become my friends a lot of times, and they feel comfortable calling me whenever, and it's more than a business relationship," Gray said.
As for his future plans, Gray said he simply wanted the opportunity to stick around.
"Goals are just to have personal relationships with the clients and lots of repeat business, which is what I've built my business on," he said. "To be around and in Bonner and just be around for as long as I possibly can. I'm starting to see things on an upward swing in the housing market, so that's a good thing."
He may be seeing an upturn in the housing market, but Gray is also well aware that opening his own real estate business in this economy is a risky venture. Still, he says, survival of the fittest in business always comes to those who are willing to work for it.

"(The economy's) always a concern cause it's out there, but I still think if you get up and go to work every day and make your phone calls, there's business out there," Gray said. "It's just a bit harder to find right now."
Contact Gray at (913) 745-4885.