Lottery ticket garners big win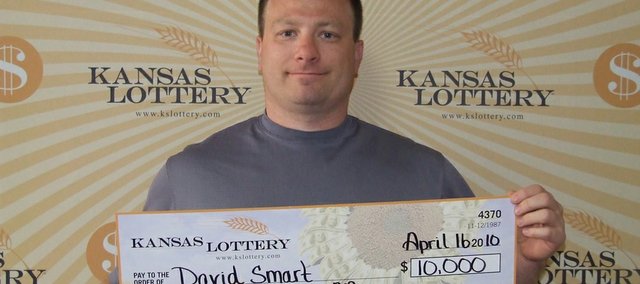 While at work Friday, April 16, David Smart, of Bonner Springs, received a phone call he'll not soon forget.

Smart's name was drawn in a Midwest Millions second-chance drawing as one of five $10,000 cash-prize winners.
"When Lottery officials called to let me know I had won, I was away from my phone, so they left me a message," Smart said. "Once I heard that I had won, I thought someone was playing a prank."
After listening to the phone message a few times, Smart called Lottery officials to confirm his win.
"I only entered five or six tickets into the drawing," Smart said. "It's amazing my ticket was drawn out of all those entries."
Midwest Millions is a $10 game the Kansas and Iowa lotteries developed together. They are the first in the United States to offer a joint instant-scratch game, where players in multiple states buy tickets and compete for prizes. The combined entries for the April 16 drawing were among 83,000 received from both states.
"I will definitely play second-chance drawing games in the future," Smart said. "When I saw the Midwest Millions commercial on TV, I never thought I would actually win."
Smart, who is a trainer for UPS, was undecided how he'd spend his winnings.
The winning entry was purchased at Woods Mini Mart 6, 413 E. Front St., in Bonner Springs.