Sandstone lineup to include Jack Johnson, Lilith Fair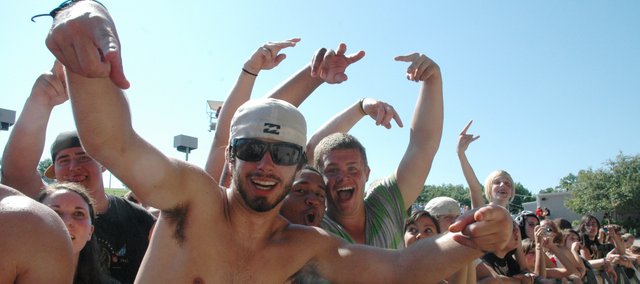 Plans are under way for another season at Capitol Federal Park at Sandstone, beginning with experimental rock band The Flaming Lips taking the stage this Friday, April 23.
"We're looking for another exciting season out here," said general manager Kevin Pew. "Right now we have 10 shows announced, and we're looking at adding a few more dates, which will be a great lineup for us. It's an increase over shows from last year. In addition to the show schedule we have now, we also have the Great American Barbecue Festival (May 21-22) set to return, and we will be hosting the D.A.R.E. Festival (May 11) this year."
Concerts announced for the upcoming season include Insane Clown Posse on May 29 and the Lilith Fair, bringing together well-known female performers like Sarah McLachlan and Emmylou Harris, in July.
Though Pew expects concert attendance to be as strong as ever, he said there were a few shows he thought would draw the largest crowds.
"I'd say right now as far as attendance, we're looking at Jack Johnson (Aug. 16) being one of our big sellers this year," Pew said. "We know the return of the Lilith Fair will be huge to us; obviously Warped Tour (Aug. 2) will be a good-sized show. We have a handful this year that should be really good-sized."
But the focus this season won't only be on the music. Pew said renovations to give the outdoor venue "a home feel" have included installing more solar lighting throughout and adding additional plants, signage and decorative elements to the front gates.
"There's just a host of things going on right here that I don't know that the average person will notice when they come, but will just make their overall experience more enjoyable," Pew said. "We're constantly trying to improve the feel and the welcomeness."
Pew said additional concerts he hopes to bring in this season include a couple more alternative rock shows and the return of the country music festival Yallapalooza, which was at Sandstone last year. Whether or not these shows make their way to the Sandstone grounds, however, Pew said he is looking forward to an "as good, if not better, season than we've had the last two years."
"I think our lineup is strong, I think we cater to a lot of variety this year and I think it's going to make people want to come out a lot more," he said.
Scheduled concerts include:
• The Flaming Lips with The Dead Weather, Minus the Bear, The White Rabbits, The Ettes and Stardeath and White Dwarfs, 5 p.m. Friday, April 23
• Insane Clown Posse with Kottonmouth Kings, Coolio and Kittie, 7 p.m. Saturday, May 29
• Unity Tour 2010: 311 and The Offspring with special guests Pepper, 7 p.m. Saturday, July 3
• Jack Johnson with G. Love playing a solo acoustic set and Alo, 7 p.m. Monday, Aug. 16
For additional concerts and information, go to sandstoneamp.com/events/.