Student athletes volunteer time
Basehor basketball teams give back to the community that supports them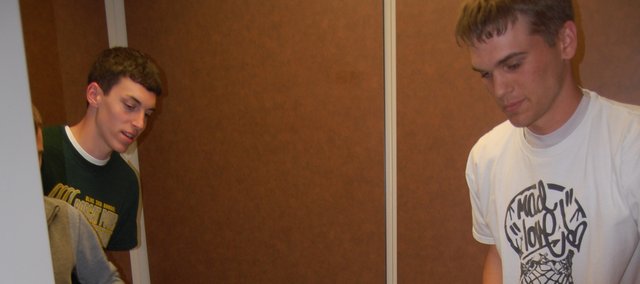 The Basehor-Linwood Bobcats basketball teams show fans, friends and family their tough, aggressive side throughout each season, but Friday, the players showcased a different, softer side of themselves.
Members of both the boys and girls high school basketball teams volunteered Friday evening at the Ronald McDonald House in Kansas City, Mo., as a way of expressing their gratitude to the community.
When the students arrived, Ronald McDonald House was ready for them with a list of tasks to complete, and they rose to the challenge. Girls basketball coach Noah Simpson said the players did a marvelous job volunteering. The evening not only benefited the charity, Simpson said, but it also gave the two teams a chance to bond.
"I truly believe that volunteering at the Ronald McDonald House was a great experience for our student-athletes," Simpson said. "The players were able to help with chores around the houses, along with cooking a dinner for one of the two houses. It was also a great opportunity for the girls and boys teams to work together and give back to those that need our help."
Basketball player Courtney Poe said she enjoyed the experience, especially because it was a way to connect with her community and say thanks for everyone's support of the boys and girls teams each year.
"It was really cool," Poe said. "It was great to go and help out, especially with my teammates. We have so many people supporting us at games, and it was nice to be able to give a little something back."
Struck by the players' compassion and dedication, Mike McBride, boys basketball coach, said he thought the volunteer work affected each student in numerous ways.
"(The charity) had a couple of pages of work for us to do, and our kids did the work very quickly and without complaint," McBride said. "The people at the Ronald McDonald House were very appreciative and you can tell that they really are there to care for people from all walks of life. I am hoping that (the students) gained an appreciation of what they have. High school kids tend to live in the moment and tend to forget all that they have. I also hope they realize that there are millions of giving people."
Simpson echoed McBride's thoughts about what the student athletes attained from their night of work.
"My hope is that when our players leave our school, they have a well-rounded experience that will prepare them for life, and that they continue to help others throughout young adulthood and adulthood," he said.
In addition to the basketball teams' volunteer hours, the high school raised $662.41 during the year to purchase items off the Ronald McDonald House wish list. All wish list items will be donated back to the charity. The boys and girls basketball teams are also planning to do volunteer work at the Basehor Community Library April 24.