Perot addresses students, helps open center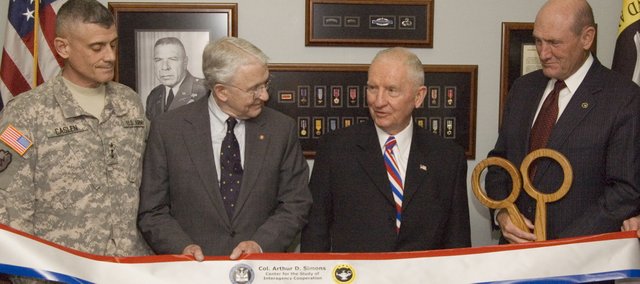 Fort Leavenworth — H. Ross Perot said he's been asked why immigrants settled in his home state of Texas.
"Well, they came in the summer; mules died in the heat," Perot said. "They had no choice."
The former presidential candidate's quip was one of many that brought roars of laughter from the audience April 21 at the Eisenhower Auditorium in Lewis and Clark Center at Fort Leavenworth. The Texas billionaire's speech was part of the Colin Powell Lecture Series.
But that wasn't his only reason for being at Fort Leavenworth. Following his speech, Perot was on hand for the grand opening ceremony of the Col. Arthur D. Simons Center for the Study of Interagency Cooperation. In November, Perot pledged $6.1 million to Fort Leavenworth. In addition to funding the Simons Center, Perot's donation will endow the Gen. Hugh Shelton Chair in Ethics. Perot offered to donate to the fort when he first was informed he had been selected to receive this year's Distinguished Leadership Award from the Command and General Staff College Foundation.
According to the center's chief operating officer, (Ret.) Maj. Gen. Raymond D. Barrett Jr., the center will provide outreach to other areas of the U.S. Government, such as the FBI, CIA and Department of Agriculture.
"It will enhance the college experience," Barrett said.
Perot elected to name the center after Simons, who was a good friend of his. Simons led the 1970 Son Tay Raid to free prisoners of war in Vietnam. In retirement, Simons led a 1979 mission to rescue two of Perot's employees from a prison in Iran.
Perot officially received the Distinguished Leadership Award during a ceremony April 20 in Kansas City, Mo. The award went to (Ret.) Gen. Gordon R. Sullivan in 2009 and former Secretary of State and (Ret.) Gen. Colin L. Powell in 2008. Perot is a U.S. Naval Academy graduate.
During Wednesday's speech, Perot told of military heroes he's known through the years, including Simons, and stressed that "freedom isn't free" and is fragile. During his speech to CGSC students, staff and faculty, he lauded military personnel for their service to the country.
"As I go across the country, it's hard to find tough people," Perot said. "So it's an honor to be here with you."
During a question and answer session, a student asked Perot about the future of a third party in the U.S. political landscape.
"I had a little experience with that," Perot said, again triggering laughter from the audience.
He said special interest groups control Republicans and Democrats and noted he used his own money entirely to fund his presidential campaigns in 1992 and 1996.
"The two parties have absolutely locked up control of elections," he said.