Strategic plan, codes court among Leavenworth County Commissioners' priorities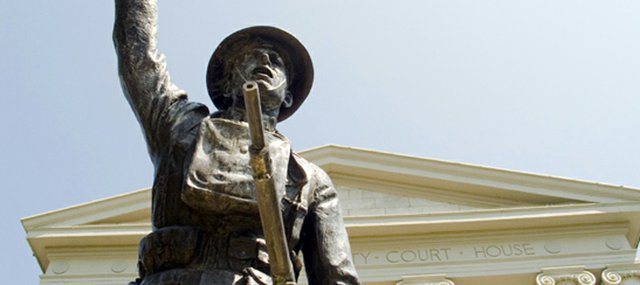 The only consensus Leavenworth County Commissioners reached at a priorities work session Monday was reconfirmation the 2011 budget should not increase the current mill levy.
Perhaps that shouldn't be surprising for a work session Commissioner John Flower characterized as a "brainstorming session," and he and Commissioner J.C. Tellefson provided fodder for future discussions. But as Commissioner Clyde Graeber reminded his fellow commissioners throughout the session, the zero mill increase direction in a tight budget year left little room for new programs, especially those needing added mill levy support.
Flower shared with his two fellow commissioners a copy of strategic plan developed for the city of Topeka and as a "conversation starter" the same process in Leavenworth County.
In advocating for a strategic plan, Flower defined it as an act of leadership that would explain to constituents where the commission was taking the county and provide justification and the rationale for decisions.
In his written memo, Flower wrote that a strategic plan would provide assurance projects were planned and approved in a logical and consistent matter, a road map for fitting projects into the county's short- and long-term vision and assurance of the county's beliefs and commitments to projects "physically and financially."
Beyond the call for a strategic plan, he had no preconceived priorities, Flower said. But he said road and public health were always near the top of his priorities.
Other priorities, Flower said, were regionalization of sewer and water districts (a idea Tellefson endorsed) and the need to plan for construction or improvements to the county shop, justice center, a south EMS station and transfer station.
Tellefson said he liked the Topeka effort and wanted to be part of a similar effort in Leavenworth County even if not re-elected this year. But he did not voice support of Flower's proposal for 2011.
He wanted to concentrate on what could be accomplished in one budget cycle and those that could be realized without dependence on property taxes. He advocated two such initiatives.
One, and Tellefson's top priority, was a code court for animal control and housing (funding economic development in the county at 1.5 mills was his second priority).
The animal control codes court could be funded through a $25 charge on what he estimated was 1.5 pets per home in the 7,573 residences in the county's unincorporated area, he said. If just 50 percent of pet owners paid the fee, the county would raise $125,000, Tellefson said.
Tellefson said it could be phased in with the first step being the creation of a codes court and then the hiring of personnel to collect fees and start enforcement. His goal was to have an animal shelter for use of all county jurisdictions by 2014.
Questioned by Graeber, Tellefson conceded $250,000 would have to be found in the budget to get the codes court started.

Lamenting the historic county's poor record at attracting tourism dollars, Tellefson proposed making use of Stranger Creek bottomland for a trail system open to bikers, hikers and equestrians that connected to a couple of "large acreages" for use as hunters and equestrians.
Starting with a 3-mile trail, the system would eventually be expanded to run from northwest Leavenworth County to the Kansas River, making use of conservation trusts and CRP land, Tellefson said. By those means and the use of volunteers, the system would not impact the mill levy, he said.
Tellefson also called for the creation of a Leavenworth County Parks and Recreation Commission by 2014.
Graeber suggested commissioners need to approach priorities with two lists: A realistic list that addressed what the the county had and things that would move the county forward.
"We're going to have the devil's own time just maintaining what we have," he said. "There aren't going to be any more paved roads fro two or three years."
County Administrator Heather Morgan said she would present the commission with a budget with no mill increase. If that left money for new programs or initiatives, commissioners would decide what those would be.