Area residents lend helping hand at Ag Hall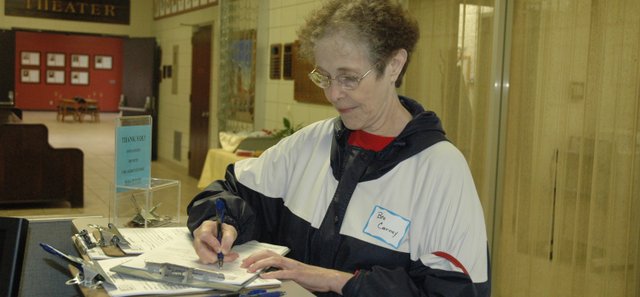 Sunday's volunteer recruitment open house at the National Agricultural Center and Hall of Fame drew several prospective volunteers looking to give their free time to help an institution in need.
"To get it back on its feet again so it can sustain itself," said farmer and Wyandotte County Farm Bureau member Jerry Sipes, of why he and his wife, Pam, had showed up to the event. "(I want to help) give other people the opportunity to see what farming is all about … they don't know what all goes into it."
Cathi Hahner, head of the center's operations committee, said the event was put together to draw people who want to help in such areas as answering phones, front desk responsibilities, maintenance and giving tours of the facilities. Until financial conditions improve, the center will depend largely on volunteers to run smoothly throughout the season. And though the center boasts about 300 volunteers already, Hahner said, the majority of those are seasonal volunteers who only help with specific events. Meanwhile, volunteers who give their time on a consistent basis are few and far between.
"That's where a big need is — those weekly or twice a month volunteers," Hahner said.
Attendees to the open house were given the opportunity to tour the grounds, talk with other volunteers and fill out application forms. Prospective volunteer Les Chubrick said he was looking for something to occupy his time once he left his job at Knit-Rite, Inc., a manufacturer of medical textiles in Kansas City, Kan., in May. The volunteer recruitment was his first time visiting the Ag Hall of Fame.
"I'm impressed," he said of the center. "It's bigger than I thought it would be."
Chubrick comes from a family of farmers and also has an interest in machinery and cars, making the Ag Hall of Fame the perfect place to fill some spare time. He said he wasn't sure yet how he wanted to help, but was considering marketing and promotion — areas he had been responsible for at Knit-Rite as a manager and organizer of trade shows.
"It would be a shame for this to be neglected and we need to make more people aware of it," Chubrick said. "I'm gonna drag my grandkids here."
Retired nurse Beatrice Carney, who also attended the event, said she was simply looking for something fun to do during the summer. Like Chubrick, she said she wasn't yet sure how she would like to devote her time, but was looking forward to lending a hand in any way she could.
"Just by helping out, I think," Carney said of how she might benefit the center. "Being there when they need help."
Volunteer coordinator Lyn Spring said that about 15 people attended the event, but the center had also received numerous e-mails beforehand from people inquiring how they might be of assistance. Though attendance to the Ag Hall hasn't always been strong over the years, she said, that willingness to help has never gone away.
"I think there's always been an interest (in volunteering at the Ag Hall)," Spring said. "I think the fact that we've reorganized and things are looking up, you know, people are wanting to come out … The Ag Hall is a popular place in this area, it always has been."
Spring said she anticipated getting continued response from people interested in volunteering and would be willing to offer anyone a position, even if they couldn't make it to Sunday's event.
"I think that it goes without saying that we couldn't do it without the volunteers," Spring said.