Author's book on religion evokes powerful response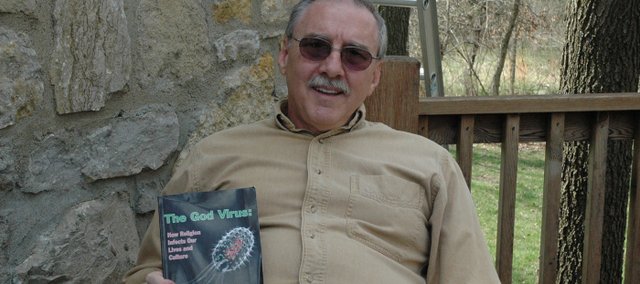 The seeds of Darrel Ray's disillusion with religion were planted back when he was still in the throes of pursuing a religious life, going to seminary school and intent on becoming an ordained minister.
The Bonner Springs author and organizational psychologist said he thought his disillusion may have even started before then, while he was a youth growing up in a Christian household and attending church sometimes five times a week.
Whatever the case, Ray would eventually find himself completely at odds with his life's original calling, going on to earn a doctorate in psychology, a profession he believed would allow him to help people in a more rational, truthful and less manipulative way than religion ever could.
In December, Ray published a book, under his own steam, espousing his personal take on religion called "The God Virus: How Religion Infects Our Lives and Culture."
"I have nothing against people who believe in God," Ray said in a recent interview. "What I wrote the book for was to reveal the manipulations that all religious leaders do … they all use hypnotic and manipulative techniques to infect people with crazy ideas. I did it, and I didn't know it until I got my training as a psychologist."
In the book, Ray says the God virus "infects the brain and alters critical thinking skills," making it impossible to be objective about one's own religion and its many inconsistencies.
Using the analogy of an actual virus, like a cold or HIV, Ray attempts to show how religion not only infects a person's mind but also utilizes certain techniques to spread the virus to others and even replicate itself. These manipulative techniques inherent to many religions, he says, include guilt, ever-changing morality and even the prayers and music that are a significant part of many church services.
"The God virus literally blinds people to their own irrationalities around their religion. The God virus will make them recoil at the idea of reading a book that criticizes their religion. Some of my Christian friends and family are absolutely horrified that I've written this book," Ray said with a laugh.
As to how those close to him feel about his book, Ray said there have been some who have left their respective religions after reading it. Others, on the other hand, might fall somewhere in the "absolutely horrified" category.
Long-time friend and chaplain David Wolfe, who lives in Virginia, said he "had problems" with the book after reading it. Friends since college, Wolfe and Ray still maintain a close friendship, but Wolfe says he finds Ray's belief in disbelief hard to understand.
"I really had a hard time with (the book)," Wolfe said in a phone interview. "I think he's making a case for something but … the issue that he's discussing, whether there's a God or not and is religion harmful … I find that (a) too black-and-white question. I don't find that to be helpful in my dialogue and my concern. It's not helpful to me."
Ray's book may not be preaching to the choir yet, but it's not as if his message is falling on deaf ears, either. He said he had already sold about 7,000 copies of the book, and he was always getting orders for more.
The point of "The God Virus," he says, isn't to pinpoint one single religion like Christianity, but to reveal the fallacy of any and all organized religion. It is also meant to show people that, when all is said and done, they can and perhaps should depend on each other and themselves rather than religion, Ray says.

"Most religions say that you're going to go to their particular hell for saying anything bad about religions, and I tend to say a lot of bad things about religions," Ray said. "I'm an equal opportunity blasphemer."
Though there may be people who hate Ray's book — and he says he is sure there are — "The God Virus" won't be the last they've heard of him. He says he is working on a sequel.
"The God Virus: How Religion Infects Our Lives and Culture" can be found at Barnes and Noble Booksellers on the Country Club Plaza, 420 W. 47th St., Kansas City, Mo., and also at websites like amazon.com, barnesandnoble.com and booksamillion.com.