Council split over city clerk candidate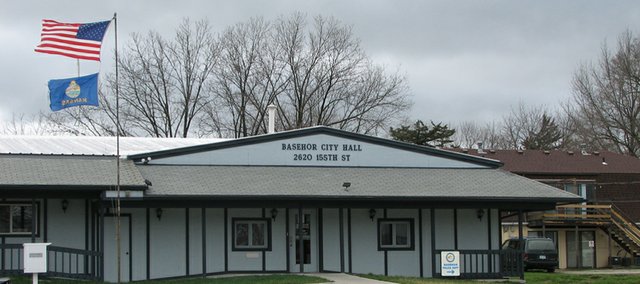 A special Basehor City Council meeting called April 21 to consider an appointment for city clerk sparked the greatest conflict seen among council members since they were elected.
Basehor Mayor Terry Hill announced his choice for city clerk at the special meeting, and the council voted down his recommendation, 3-2, with only council members Bill Moyer and David Breuer voting in favor of the appointment.
Hill had selected Sheldon Hamilton, finance director for the city of Russell, for the position. After hearing a motion and a second on the appointment of Hamilton, Council President Jim Washington moved for a 45-minute executive session to discuss matters related to non-elected personnel. The motion carried, 3-2 with members Moyer and Breuer opposed.
Upon returning from executive session, Hill called for a vote, and the motion to appoint Hamilton failed.
Hill, Moyer and Breuer left the meeting unhappy about the outcome.
"We had the opportunity to have a seasoned veteran in this line of work for the cost of someone just out of college," Hill said. "It isn't likely we will have that kind of opportunity again. I'm saddened and disappointed. The city suffered badly (April 21)."
To Moyer, the vote was a sign Mertz, Dysart and Washington did not have confidence in the mayor's and City Administrator Mark Loughry's abilities to select city employees.
"Both the mayor and city administrator personally interviewed the candidate and recommended to city council we approve the appointment based on their expertise and experience hiring staff for private industry and local government. Their recommendations should carry enormous weight and receive special consideration by city council," Moyer said. "The mayor and city administrator together lead and manage our city. In my opinion, the dissenting council members last evening essentially cast a no-confidence vote for the mayor's hiring recommendation for city clerk."
Not only did the meeting's end leave Basehor without a city clerk, but Moyer said the meeting also characterized a split in the city council and opposition to the mayor that he perceived to exist in several areas.
"I am disappointed in (the April 21) vote because it was more than a vote for city clerk, it also points to a divide that exists between several dissenting council members and the mayor on a wide range of subjects that should concern the citizens of Basehor," Moyer said.
Washington and Mertz saw the situation merely as a difference of opinion on the ideal candidate for Basehor's city clerk. Both said their votes in no way symbolized their feelings about Hill's or Loughry's acumen.
"This action reflects nothing more than an honest disagreement as to whether the person the mayor wished to appoint to the position was the right fit for the city going forward," Washington said. "It says nothing about the worth of the individual nominated, nor does it in any way reflect on Mayor Hill's judgment in bringing this appointment forward. Experienced, reasonable people can look at a situation and come to a different conclusion as to what the proper course for the city should be. That is the case here."
Mertz pointed out it is only natural a governing body's members, or members of any group, will disagree with each other from time to time. He also said he was sure Hill would select another clerk candidate about whom the council would agree.
"Realistically, we will not agree 100 percent of the time, but without a doubt, we all care so much for this city," Mertz said. "There are and will be many issues this city will face, and I am confident we will do what is needed for this city to prosper. I am confident that Mayor Terry Hill will bring forth and appoint someone else to the position. I hope that we can all put this behind us and move on."
In the meantime, Washington expressed his comfort with the way the city had thus far handled having no city clerk. He commended Hill on his mayoral practices since being elected and, like Mertz, said he was eager for the council to rise above the conflict.
"The city is in no jeopardy in not filling this position immediately," Washington said. "Katherine Renn, an experienced city staffer, has been properly appointed and confirmed as the interim city clerk, and Mark Loughry, our city administrator, has several years experience in the very role this appointee was to fill. Since taking office a year ago, Mayor Hill's time, intelligence, effort and, most importantly, heart have been given completely to the betterment of the city of Basehor. It is my deepest hope that this can be put aside and that we can continue the progress this city has made."
None of the council members casting dissenting votes would comment as to reasons behind their votes, citing the information was disclosed during executive session.