Kaw Valley Community Chorus performing three May concerts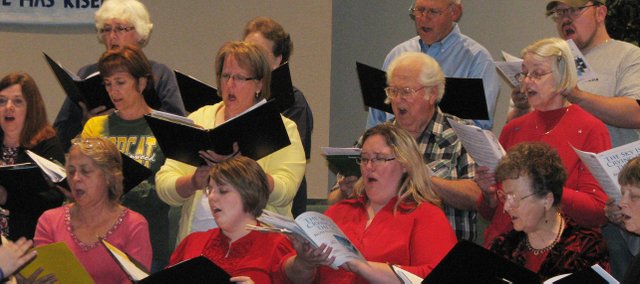 Each Tuesday night at Basehor United Methodist Church, a group of men and women of all ages are united by one commonality: a love for singing.
The Kaw Valley Community Chorus has been bringing singers together for nearly 20 years, and the group will be showing off its talents during three concerts in May.
Chorus director Kimberly Demings said the group was composed of 20 people, with its youngest member in high school and many members in their golden years. Anyone who enjoys singing is accepted, she said, regardless of experience.
"We ask that people be at least in ninth grade, so the voice is becoming more developed, but other than that, you can just show up, and you're in," Demings said.
A wide variety of music is rehearsed and performed by the chorus. During this concert season, she chose several songs by well-known poets and decided to incorporate those poets' written work into the performance, as well.
"I always choose a theme for our concerts and follow it," she said. "I found I had songs by Emily Dickinson, Robert Frost, famous poets. I've never had poetry read during a concert, but I decided to do that here. It's a break in the music, and I thought people would enjoy it."
The May concerts have a water theme with songs like "River in Judea" and "Bridge Over Troubled Water" sure to get audience toes tapping.
Chorus member RoJean Mustain, who has been singing with Kaw Valley since it began, said her appreciation of musical composition drew her to the group and has kept her coming for years.
"I like to hear all the harmony and different chord structures," Mustain said. "Being in a group that hits the right notes is certainly a draw."
For member Jacque Borgelt, chorus was a comfort after moving to a new city.
"This has been a wonderful way to make friends and to be part of the community, coming from someone who was new to the area," Borgelt said. "It worked out beautifully."
As for Demings, her favorite aspect of being part of the chorus is seeing each song's and each singer's maturation.
"One of the most fun things is watching from beginning to end the music and musicians change and evolve," she said. "That transition is fun, as is being with all these people who like to do the same thing."
The group has been practicing since January for its May concerts, and Deming is pleased with the chorus' progress. Though she and the choir are anxious about opening night, Deming says they're ready to put on a good show.
"I think we're ready," Deming said. "It's hard to describe because there's always nervousness before a concert. That's part of the excitement, though. We'll use our last rehearsal to tweak everything, but I think we're ready."
The Kaw Valley Community Chorus begins practice each year in August for its three winter concerts and in January for its spring concerts. Those interested in joining the choir can e-mail kawvalleycc@yahoo.com or attend one of the practices in August at 7 p.m. each Tuesday night at Basehor United Methodist Church.
Each of the following three concerts is free and open to all ages.
• 7 p.m. May 8 at De Soto United Methodist Church, 8760 Kill Creek Rd., De Soto
• 7 p.m. May 14 at Basehor United Methodist Church, 18660 158th St., Basehor
• 7 p.m. May 16 at Monticello United Methodist Church, 23860 W. 75th St., Shawnee