'

Room to grow'
New middle school offers needed space as 6th-graders move up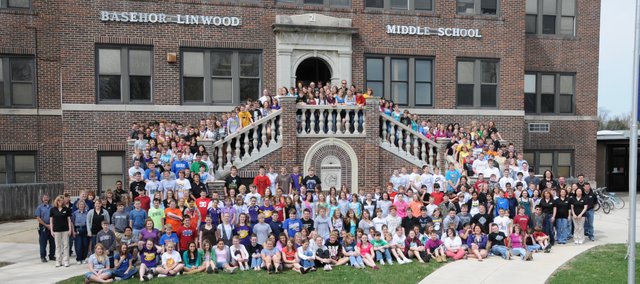 After 90 years as a learning center in the Linwood community, Basehor-Linwood Middle School on May 25 will send off its last group of seventh- and eighth-graders.
Next year, students in sixth, seventh and eighth grades will begin classes in a new middle school, which is still under construction on 158th Street. The new $24 million building will house approximately 475 students on its Aug. 23 debut, with the capacity to accommodate 300 more. Two gymnasiums, a practice track and field, spacious science labs and a modern, first-class library are just a few of the highlights that have the middle school staff and faculty eager to move.
"The building really is amazing," principal Mike Wiley said. "We'll have so much more room for our students and teachers with room to grow."
The school will have three wings of classrooms, one for each grade, with a coordinating color for each grade level. Its two sets of exterior doors offer optimum security, with the second set of doors locking each morning when school starts and the first set remaining open, guiding visitors through the office to sign in. Motion-censored lights preserve energy in all rooms, and students will have access to two large computer labs. Several open areas in the building's halls are equipped with projectors and screens teachers will be able to use for activities outside the classrooms with all the students in that grade level.
And as the close of the year draws nearer, teachers have been preparing themselves and their students for the change. Spanish teacher Dorothy Hoyt-Reed said she was looking forward to having a new classroom and had been talking to her students about what to expect next year.
"I am very excited about next year," Hoyt-Reed said. "Since I have taught Spanish in the basement of the old school for the last nine years, I am very excited to have a room above ground. It will also be much bigger than my present room. I teach at the middle school, as well as the sixth grade center, so I have been telling the students about how exciting next year will be. I am planning on forming an international club, which will be similar to the same club at the high school. I am also buying new posters to decorate my room."
But for some at the middle school, the move will be more difficult. Several faculty members have spent decades delivering lessons in the old brick building on Park Street, with carousels of students circling in and out. They remember the days when the gymnasium was on the first floor of the school, with balconies enclosing and overlooking years of games and practices. Teachers like Larry Booth and Matt Johnson have stayed at the middle school through numerous renovations and possess bundles of memorable moments in the hallways and classrooms.
"For me, the move is going to be really different," Booth, eighth-grade English teacher, said. "I started my teaching career here in this same building 30 years ago and have never gone to work as a professional anywhere else. So although, like everyone else, I am sure it will be nice to work in a brand new facility, it will also be very different and somewhat sad. I have had many wonderful and unique experiences here at this solid old building over the years."
Johnson, a geography teacher, expressed a similar sadness at leaving the old middle school.
"It will be a major shock for me because I have taught in this building for my entire career," Johnson said. "I started in this building in 1989. I have watched three renovations and the growth of the district. It will be bittersweet for me to leave, but great to get a chance to teach in a new building."
Despite his attachment to the old middle school, Booth says he is keeping an open mind and becoming more comfortable with leaving.
"As we keep getting closer to time to pack up and leave for the last time, I try to remind myself that it is the students and the people I work with that makes it great, not the building or the location," Booth said. "It will be great to be part of starting up a new building with a great age group of students."
Whether the teachers have an extensive past with BLMS or their careers are just beginning, whether the students spent a year in the old school or are starting middle school anew, with the move all will be components in the next chapter of Basehor-Linwood history.