Democrats, Republicans pick nominees in primaries today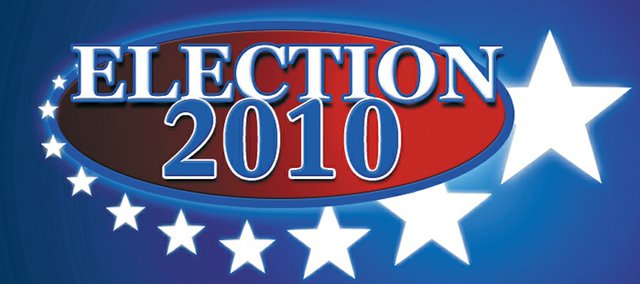 Polls are open across Kansas as the state's Democrats and Republicans select their nominees for offices to be contested in the general election.
Voting will continue until 7 p.m. At that time, counting will begin across the state.
The marquee race is on the Republican side, where U.S. Reps. Jerry Moran of Hays and Todd Tiahart of Goddard are seeking to win the GOP nomination for the U.S. Senate. Lesser-known candidates in the race are Tom Little of Mound City and Robert Londerholm of Overland Park The current officeholder, Sen. Sam Brownback of Topeka, is giving up the seat and faces only token opposition today against Joan Heffington of Derby for the GOP nomination for governor.
In all are three statewide races that require primaries for Democrats, and Republicans in Shawnee will help narrow the field of candidates in six races.
In the race for U.S. Senate, Democrats will choose from Robert A. Conroy of Shawnee, David Haley of Kansas City, Kan., Lisa Johnston of Overland Park, Charles Schollenberger of Prairie Village and Patrick Wiesner of Lawrence.
In the 2nd Congressional District, which includes Leavenworth County, first-term Republican incumbent Lynn Jenkins of Topeka is being opposed by Dennis Pyle of Hiawatha.
Second District Democrats vying for the nomination are Cheryl Hudspeth, Thomas Koch and Sean Tevis.
For 3rd District Congress, Democrats will choose either Stephene Moore, Lenexa, or Thomas Scherer, Prairie Village, to move on as the party's nominee in the November general election.
Republicans have a much larger field to choose from with nine candidates seeking the 3rd District congressional seat. They are Dan Gilyeat of Kansas City, Kan.; Dave King of Leawood; Garry R. Klotz of Lenexa; Patricia Lightner of Olathe; Jerry M. Malone of Leawood; and Craig McPherson, John Timothy Rysavy (Rez), Jean Ann Uvodich and Kevin Yoder, all of Overland Park.
In state races, Democrats don't have to narrow candidates for governor and lieutenant governor, but Republicans must choose between Brownback and running mate Jeff Colyer of Topeka, and Joan Heffington and Mark Holick of Derby.
For secretary of state, Democrats will choose between incumbent Chris Biggs of Junction City and Chris Steineger of Kansas City, Kan. Republicans have three options: J.R. Claeys of Salina, Elizabeth Ensley of Topeka, and Kris Kobach of Piper.
There isn't a Democratic primary in the race for attorney general, but Republicans will decide between Ralph J. De Zago of Herington and Derek Schmidt of Independence.
There will be no narrowing of the field for state treasurer, but for commissioner of insurance, Republicans will choose between incumbent Sandy Praeger of Lawrence and David Powell of El Dorado.