6News to bring 'Main Street Live' to City Park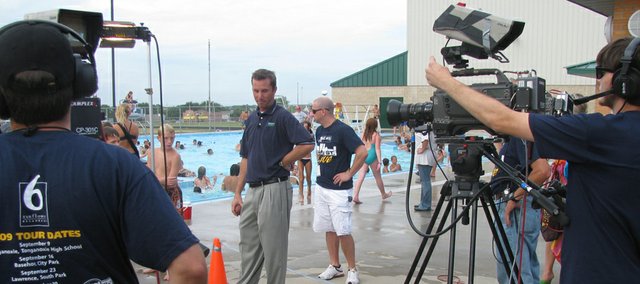 If you ever wanted to meet some of the personalities from Sunflower Broadband Channel 6News and see what a newscast looks like behind the scenes, well here's your chance.
On Wednesday, the station's news, sports and weather team will be at Basehor City Park for a "Main Street Live" newscast.
"Our news anchors look forward to getting out into the communities we serve," said Jesse Fray, 6News director. "We hope the people of Basehor will come out and see us."
The public is invited to the park at 5:30 p.m., before the 6 p.m. newscast, which will take place live from the park.
The first 150 guests will be able to enjoy free food and drink. If you don't make it for the food, you can always sit back and listen to the Stranger Creek String Band as it performs before the newscast.
If you can't catch Main Street Live at the park, the 6News crew will be available at the same time on Aug. 20 in Lawrence and again Aug. 27 at Tonganoxie High School.
For more information visit www.6newslawrence.com/mainstreetlive.