Leavenworth County Fair 4-H projects keep sisters busy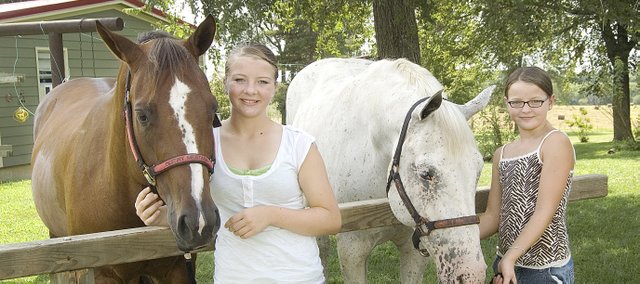 For Destiny Mestagh and Mable Mestagh, it just made sense to be involved in 4-H and, subsequently, the Leavenworth County Fair.
Their mother, Kathrine Shade, is a countywide leader who has been involved in 4-H because her mother was a countywide leader.
Now, Shade's daughters are heavily involved in 4-H, which means the family has been involved in the organization for about 30 years total.
Members of Happy Helpers 4-H who live near McLouth are gearing up for next week's Leavenworth County Fair.
Destiny, 13, has entries in the horse show, crafts and gardening.
Mable, 10, is, as Destiny put it, "a lot more extravagant." She will have entries in beef, horse, crafts, gardening, foods and poultry at this year's fair.
"Horses, for me, come first, but then gardening takes a long time to get together," Destiny explains.
The family competes in several horse shows each year, and both Mable and Destiny already have qualified for September's Kansas State Fair.
One thing Mable is showing at the fair prevents the family from having other entries at their rural home.
They raise chickens that meander on their property, which makes it difficult for the girls to do any gardening at home. Instead, they have a garden at their grandparents' home.
Excessive rain has hindered having much of a potato crop and has meant more time pulling weeds for the siblings. But zucchini and cucumbers "are crazy" in how they're growing, Destiny said.
"They don't really care," Mable said about growing conditions. "They always grow."
Mable also proclaimed they have a pumpkin "that's probably as big as me," as well as small pumpkins. One pumpkin already is weighing in at 60 pounds, Kathrine said, and it's still growing.
"We don't know how we're going to move it," Kathrine said with a laugh.
Their mother said some items have to be planted out of prime planting times so they can be ready for the fair.
Getting prepared for the fair can be time-consuming. Mable said getting ready for the beef show was most demanding, with horses and chickens next in line. Kathrine noted that because the family is so involved in horse shows throughout the year, it's basically a daily chore.
"It's the other projects that at the last minute you're going 'eahh!'" she said.
Once the fair gets under way, socializing is the "funnest" part, Destiny said. She'll be showing her horse Monday and basically her lone duty after that will be working at the Happy Helpers food stand.
Mable, meanwhile, lists working with cattle as her top activity — maybe.
"Messing around with calves and feeding them," Mable said about what she likes most at the fair. "And I still can't decide between that and the rides."
She is also gearing up for the turtle race and pie-eating contest, both of which will take place on the fair's final day, Aug. 14.