Mini-series gets mixed reviews from racing cast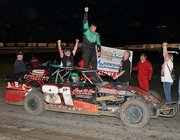 On any given Friday night, spectators at Lakeside Speedway are in for a show.
With a dangerous sport such as racecar driving, it's not unusual for fans to see tempers flare, cars crash and drivers explode with anger. That fan's perspective, however, was taken to another level recently with the airing of "Heartland Thunder," a six-part Discovery Channel series chronicling the victories and disappointments of four local dirt track racecar drivers.
With all the episodes having finally aired last week, the four featured drivers — Tom Charles, Danny Charles, Tim Karrick and Justin Boney — are left with mixed feelings about the television experience.
Missing footage
Tom Charles, a 33-year veteran to racing modified cars, said he was disappointed in the final product that came from six months of filming.
Tom Charles' biggest complaint with the show was that while the episodes were entertaining, he felt the editing left out footage that would have given viewers a better look into the world of racing.
"I think they went more for entertainment then they did for facts," Tom Charles said. "A lot of what went on got chopped up and mixed up. They set it up to tell a story they thought they needed to tell. I didn't agree with the way they did it. From the beginning, I strongly urged them to let the show happen and develop naturally. They didn't need to create drama, we have enough of that in racing already."
Tom Charles said his hope was to expose the true side of racing and why the men and women who compete week after week do what they do. While the show certainly showed the danger and financial strain that drivers endure just to compete, Tom Charles said his untold story showed another side.
Growing up in a single-parent household, Tom Charles said as a young man, he started hanging around the wrong crowd. He was headed toward an unproductive life filled with mistakes when we discovered racing. Focusing his energy on racing saved his life, he said.
There's no doubt that he loves the excitement that comes from every race, but Tom Charles said being involved in racing changed his life in a deeper way, which he felt was completely left out of the series.
Tom Charles said the most important thing was that the fans of Lakeside Speedway enjoyed the series.
"They come out and support us every week," he said. "They are a big reason why we do this."
Scheduling mistakes
For Danny Charles, son of Tom Charles, the show itself was a success from an entertainment standpoint, but the way it was handled by the Discovery Channel only brought frustrations.
The original series was supposed to air in March, but the premiere date was pushed back to June. After the first two episodes aired, the four racers received word the show didn't receive the ratings it needed for the remaining four episodes to air.
With the help of a Facebook fan page, "Thunderheads" inundated the Discovery Channel with complaints. Eventually executives gave in, and the remaining four episodes were aired at 1 a.m. July 27-30.
"Discovery didn't give it a fair shot," Danny Charles said. "We haven't heard a damn word from them. They couldn't care less."
Danny Charles said through the whole process he saw a new side of television. He said the show's creators staged many occurrences for dramatic affect.
For example, he said, the show had Danny Charles working out of Tom Charles' shop, creating some father-son tension. In reality, Danny Charles has his own shop through his sponsor JayBro Motor Sports, which is owned by Randy Moore.
"They made me move back to the dad's shop," Danny Charles said. "I was in the middle of a battle for the championship and they had me racing out of a trailer for six weeks."
Danny Charles eventually went on to win the championship that season, which combined with the television series made for a racing season he'll never forget.
Growth at the speedway
Tim Karrick sees more positives than negatives as a result of the show.
"It's one of the most awesome things I've ever done," he said.
Already, Karrick said he's getting more requests for Karrick merchandise from all over country, including Tennessee and Iowa.
He's also seen an affect the show has had on attendance at Lakeside Speedway, the dirt track where four featured drivers race every Friday night.
"It's been packed at Lakeside since the show came out," he said. "I've seen people come to races that I haven't seen there before. A lot of people say the reason they came out was because of the show."
Karrick said he thought the show would be good for the sport of racing as a whole.
"The most important thing I think is to bring new people out there that haven't been there before," Karrick said. "(The show) really showed why we do what we do."
The Chieftain was unable to reach Justin Boney for this article.
For those wanting to watch the six episodes, including a couple of minutes of footage that were cut from the television airing of the last episode that shows Danny Charles winning the championship, go online to dsc.discovery.com.