Parking on 141st becomes one-sided debate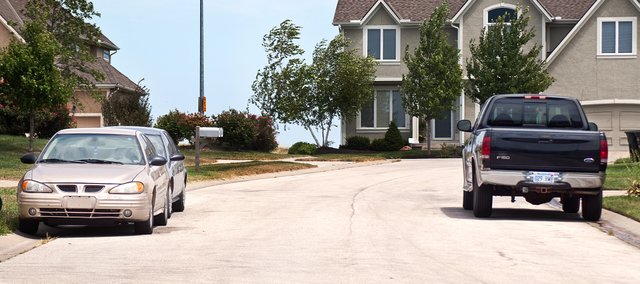 If you like parking on 141st Street you may not like what the Basehor City Council is poised to decide during its next regular meeting.
During Monday's council work session, the council took up the topic of parking on that particular street in the Falcon Lakes subdivision.
Mark Loughry, Basehor city administrator, said he has received calls about cars being parked on both sides of the 24-foot-wide street, making it too narrow for traffic to safely pass.
He said city engineers and officials from the Fairmount Township Fire Department inspected how problematic the traffic situation was and whether emergency vehicles could drive through the street.
"They determined they could not," Loughry told the council. "The width of the street does not support parking on both sides. So staff supports only allowing parking on one side of the street."
Council member David Breuer said the subdivision's homeowners association prohibits residents from parking their cars on that street overnight, but that hasn't stopped residents from doing so.
James Washington, council president, was concerned about singling out a specific street for regulation and instead favored making a universal rule for 24-foot-wide streets.
Councilmember Iris Dysart suggested designating 141st Street as a collector street, thus disallowing parking on the street without the need for signage. but she was told by other council members that would require the city to construct sidewalks on both sides of the street.

Mayor Terry Hill said he wasn't in favor of completely doing away with parking along 141st Street.
"If somebody has a family birthday party or has out-of-town guests, at least if they all park on one side of the street emergency vehicles can get through and people who live in the neighborhood can drive through without weaving through cars," he said.
The council directed staff to take a survey of all of the streets in Basehor to see where ta new rule of parking only on one side of the street could be applied. They were also charged with determining how narrow a street could be to allow for parking and allow for emergency vehicles to pass. Staff will report the findings at a future council meeting.
Hill said that he hadn't heard that it has been a problem in other parts of the city.
In other business the council:
• Voted to enter into regular session to approve a resolution on the sale of temporary notes.
• Approved the resolution, 4-0, to allow the sale of $2.4 million in temporary notes to UMB Bank with an effective interest rate of .99 percent.
• Listened to explanations about the adoption of the uniform public offense code and standard traffic Ordinance from Police Chief Lloyd Martley.
• Was told by Loughry that adoption of the county's hazard mitigation plan would be needed for the city to receive any money from the Federal Emergency Management Agency in case of a disaster. This year the city had received $7,639 from FEMA to help in the assistance of snow removal.
By adopting the plan, the city would also be required to comply with some regulations spelled out in the plan.
"I don't think this is going to add a ton of work or take a lot of time for staff," Loughry said. "I would hate to see a situation where we would have a major storm come through town and not be able to get any money."