Reading program fills need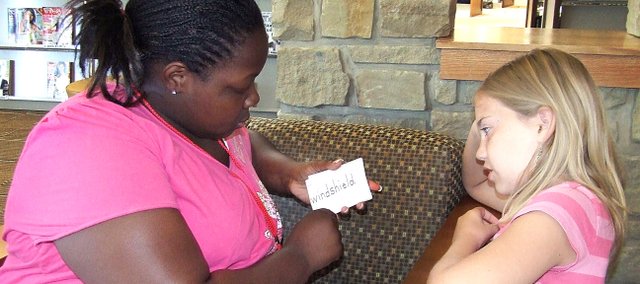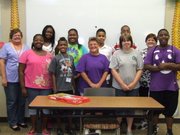 Lorna Carter-Sims believes the gateway to life is through reading.
"If you can't read, you're not going to be able to move forward in life's steps," she said. "From (product) instructions, (job) applications, anything you want to do. Reading is the gateway to it all."
Sims, a member of the Bonner Springs NAACP education committee, recently organized a summer tutoring program to improve the reading skills of Bonner Springs youths.
Sims said she started a similar program while working for a school district in Wichita. When she came to Bonner Springs, she said she was interested in again taking on the task of helping students with their reading.
She recalls the time three years ago, when she was in the library and she saw a 19-year-old man filling out an application with the help of a library worker. When the man left, Sims remembers, the worker told her the man couldn't read.
"That struck a cord with me. It touched my soul," Sims said.
After seeing more Bonner Springs youths struggling with reading and after seeing disappointing reading scores on state assessment tests, Sims said she knew the time had come for such a program.
The free seven-week session, which ended July 27, brought in a group of 14 youths every Tuesday for one hour of tutoring. The tutors, which consisted of a mix of adults and teenagers, worked one-on-one with the students, running through flash cards of sight words and reading books checked out from the library.
Helping Sims with the process was Teresa Bolton, another member of the NAACP education committee.
Bolton created a spreadsheet that tracked each child's progress throughout the program. The printout was presented to parents of each child, so they could continue to help their child improve even after the program had ended.
"We're trying to get the parents involved as well," Bolton said. "A lot of the children's parents are not involved and (the children's) reading falls behind. Parent involvement is very important for a child to study up on their reading."
In addition to the goal of improving reading skills, Bolton said the tutoring program was a way to keep students engaged during the summer months. She said when a child does activities related to education in the summer, the transition back to the classroom in the fall is easier.
"They do this during the summer so when they go back to school, their brain has been exercised," Bolton said. "They don't go back forgetting everything they learned from the previous year. It keeps their minds fresh and sharp."
Sims said during the tutoring program, she saw a growth in excitement from the children when it came to learning, which would stay with them through their whole educational career.
"They were excited for coming," Sims said. "I was extremely pleased with the progress. We saw children make moves in their reading performance but we also saw children's desire to read grow."
Sims said she hoped to continue the program next summer.
"It takes a village to raise children, I truly believe that," she said. "Teresa and I are just part of that village. We're just thankful we could do it."