'

Truth truck' exposes dangers of smoking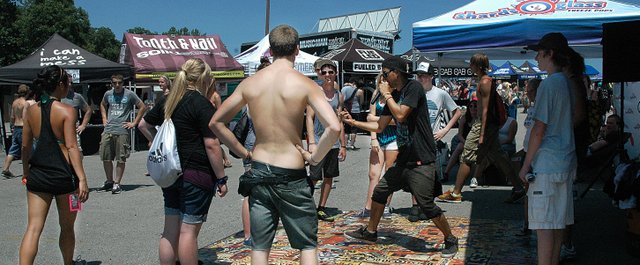 As one performing band member shouted to a crowd of fans, "Evidently punk rock is alive and well in Kansas!"
But Monday's Vans Warped Tour wasn't all about the music.
Signalling its place among the performance stages and the many fans who attended the daylong music festival at Capitol Federal Park at Sandstone was a bright orange truck, known as the "truth truck." Truth is a campaign designed to educate youths about the dangers of smoking cigarettes.
The truth truck not only served as a base of operations for truth crew members to interact with youths as they passed by on their way to see the next band perform, but is also transporting members along the same route as the Warped Tour — the eighth consecutive year it has done so, said truth crew member Nick Girard.
"The real purpose of the truth going out on tour is to have that one-on-one connection with the youth and to really help them engage and have a really lasting and fun time with our crew," he said.
The "fun time" Girard spoke of consists of the games the truth crew members played with youth, such as Simon says, and the free T-shirts and other merchandise they handed out throughout the day.
The merchandise contains facts about smoking, such as that 80 percent of adult smokers started smoking before the age of 18.
Truth crew member Felix Lamorena said, while the campaign is trying to stem the flow of teenage smoking, those teens who stop by the truth truck will take the message more to heart if crew members keep it light.

"It's a heavy message, (so) the last thing we would ever want to do is to spit facts at people and tell them what to do," Lamorena said.
The Vans Warped Tour isn't the only trip the truth team takes. Throughout the year, Girard said, another truth truck of crew members, known as the guerilla team, travels to various cities.
"The idea is we don't want to exclude anybody," Girard said, adding that there are many youths who may not be able to afford to attend the Vans Warped Tour, which can run more than $30 a ticket.
Still, Girard said, the Vans Warped Tour is the biggest draw of the year, allowing the campaign to target about 1,000 youths at each stop. The truth crew members also get a chance to talk to the youths about smoking on a one-on-one basis, and both he and Lamorena recalled several occasions where returning Warped Tour attendees had remembered who they were and had stopped by the truck to talk about the impact the campaign had made on them last year.
"Those impressions last," Girard said. "It's more than just, 'here's something for free.' It's about making a connection that's meaningful."